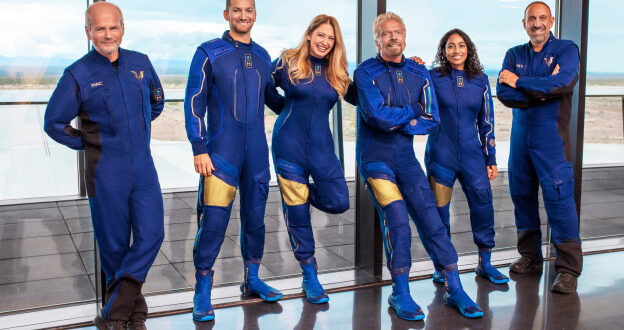 Billionaires are now rushing to reach space first, as last month Jeff Bezos had announced a trip to space on 20th July in the Blue Origin New Shepard capsule. Now it seems there is another competitor in the race, as Richard Branson has also announced a trip to space on 11th July in the Virgin Galactic spacecraft, ahead of Bezos.
The news was announced today by Virgin Galactic, stating that the launch window for its following test flight opens at 6 AM Pacific Time on July 11 and that the mission will be the first to transport a full crew consisting of two, three experts, and one billionaire.
Moreover, Dave Mackay and Michael Masucci will fly the VSS Unity spacecraft; Chief Astronaut instructor Beth Moses will manage the flight; Lead Operations Engineer Colin Bennett will control cabin facilities and methods; Vice President of Government Affairs and Research Operations Sirisha Bandla will be managing a University of Florida microgravity research; and finally, Sir Richard Branson "will evaluate the private astronaut experience." 
Read more: More than 70,000 people sign petitions to stop Jeff Bezos from returning to Earth
"We sincerely believe that space belongs to all of us," said a space travel agency billionaire founder and private funder in a press release from the company. "After more than 16 years of research, engineering, and testing, Virgin Galactic is a pioneer in the new commercial space industry, which aims to open the universe to humanity and change the world forever. Having a dream of making space accessible is one thing."
"It's another thing that an incredible team realizes that dream collectively. As part of a great crew of mission specialists, we are honored to be able to validate the journey that future astronauts will embark on and help ensure that they provide the unique customer experience that people expect from Virgin," they further stated.
In addition, missions such as the Virgin Galactic style, include flying by conventional medians to areas usually deemed high altitude. The rocket-pushed VSS Unity was then separated from the plane and recognized as the edge of space, which normally zooms in over 80km. Branson will be receiving all the same training that future Virgin Galactic space commuters will encounter.
Source: TechCrunch