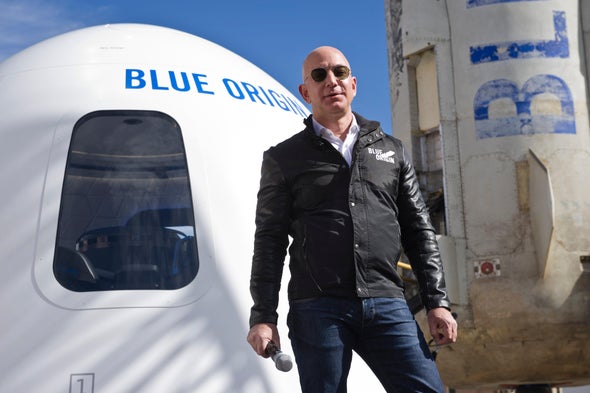 Just days after the Amazon founder, Jeff Bezos announced earlier this month that he and his brother Mark would fly on his space tourism firm's first passenger flight to space, two petitions began calling to stop Bezos from coming back to earth.
Till now over 70,000 people have signed petitions to stop Jeff Bezos from coming back to Earth after his space flight next month. One of the petitions, titled "Do not allow Jeff Bezos to return to Earth," has collected over 40,300 signatures.
The auction for the very first seat on #NewShepard has concluded with a winning bid of $28 million. The winning bid amount will be donated to Blue Origin's foundation, @ClubforFuture. Full replay of the auction webcast: https://t.co/5Vc8IvWxJR pic.twitter.com/IlGbgOFmhx

— Blue Origin (@blueorigin) June 12, 2021
"To see the Earth from space, it changes you. It changes your relationship with this planet, with humanity," Bezos told in a video announcement. He stated he has been wanting to travel to space since he was 5 years old, and he will be traveling with his brother Mark Bezos. "I was just awestruck, " his brother told after Bezos invited him to join.
Read more: Jeff Bezos to officially step down as the CEO of Amazon on 5th July
"Billionaires should not exist…on earth, or in space, but should they decide the latter they should stay there," the creator of that Change.org petition wrote. And more than 20,000 people have agreed on another, titled "Petition To Not Allow Jeff Bezos Re-Entry To Earth."
The petition also states that Bezos is the world's richest man with a net worth of around $200 billion, "is actually Lex Luthor," referring to the DC Comics supervillain. "He's actually an evil overlord hellbent on global domination. We've known this for years."
Another signatory wanted Bezos to pay for 'crimes against humanity: "Jeff Bezos is a super-villain. His exploitation of his workers and his refusal to use his power and privilege for the good of humankind may be acceptable in space. But here on earth, they are crimes against humanity and he should not be allowed to enter this planet without atoning for his grievous sins."
Furthermore, Blue Origin is reserving July 20 for its first suborbital touring trip on its spacecraft, a benchmark moment in a competition to usher in a modern era of private commercial space flying. The New Shepard rocket-and-capsule combo is created to autonomously fly six passengers more than 100 kilometers above Earth into suborbital space, high enough to endure a few moments of weightlessness and view the curve of the earth before the pressurized spacecraft travels back to earth under parachutes.
Source: NPR