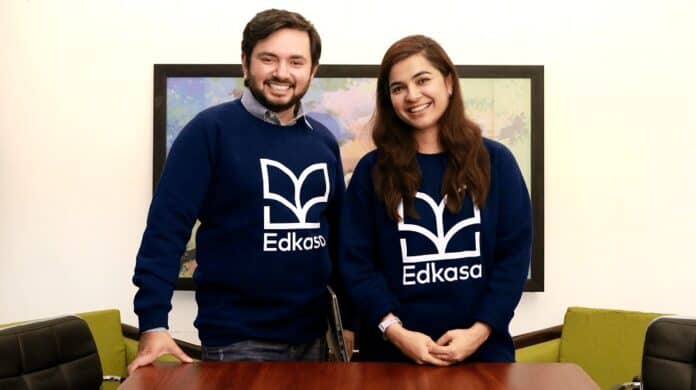 An edtech Edkasa, based in Lahore has successfully raised $320,000 in pre-seed funding led by i2i Ventures, as announced by the company today. The round was concluded a few months ago but the official announcement has been made today. It also involves the participation of Walled City Co, Zayn Capital, and 'strategic angel investors' from Southeast Asia. Edkasa has further proclaimed the launch of its exam preparation app for high school (matric and intermediate) students, which went live on Google Play Store earlier this week.
The company was inaugurated by Fahad Tanveer and Annum Sadiq, a married couple, they initiated this idea after realizing that more than half of the student population that reaches the high school stage in Pakistan does not perform in their patterned tests and exams. Therefore, the duo initiated Edkasa to overcome this problem, "We empathize with the fact that parents, teachers, schools, and society at large have a lot of resources, time, and effort vested in high-school students. We want to see students get top marks, continue their higher education, and increase our country's knowledge-based economy," stated Annum who directs the education delivery at Edkasa.
Read more: Pakistan-based fintech SadaPay raises $7.2 million in a seed round
The two started Edkasa in 2017 with low fidelity greatly focused products, which also entails a YouTube channel, to study how students interact with them. They commenced developing the tech last year and the first product is the exam prep app. Even without having a tech product, Edkasa was capable to reach tens of thousands of students and operate with over 40 schools directly, creating a lucrative business in the process. With their application products, the team is now hoping to reach millions of students in Pakistan and develop a more thriving educational system.
In addition to it, Kalsoom Lakhani, the co-founder and General Partner of i2i Ventures, explained why the company chose to invest in Edkasa, stating that they have known Annum and Fahad since Edkasa was a part of the i2i Accelerator, and the company was in search of founders who were focused on solving large problems in a thoughtful and innovative way.
Read more: Pakistani startup "RemoteBase" raises $1.4 Million in a seed round led by Indus Valley Capital
Source: MenaBytes