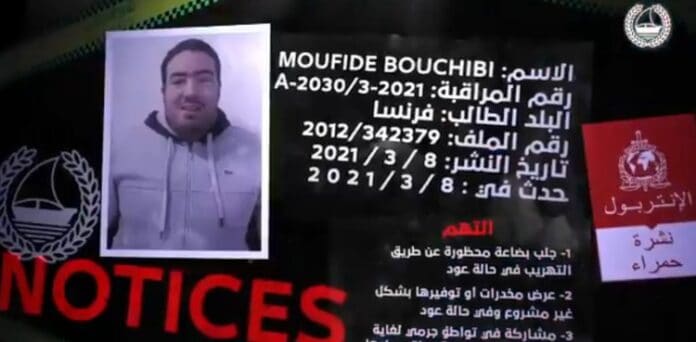 The incorporation of AI in today's systems and strategy to support the people in the smart ecosystem has resulted in positive outcomes. On the same, Dubai has been exploring ways to integrate modern technology in the sector of public security. Recently, the UAE police initiated experimenting with drones to catch criminals, moreover, the authorities were also able to solve a murder case using the mean of technology by interpreting a suspect's brainwaves. 
Consequently, a French drug lord known as "the ghost" who was on the run for a decade was arrested in Dubai after police provided with only a 20-year-old picture of the suspect used artificial intelligence technology to track him down.
Dubai Police had received a Red Notice from Interpol against Moufide 'Mouf' Bouchibi, 39, shortly after he arrived in the city recently. The criminal was using forged identification to avoid detection after entering the city. A team of police officers were appointed for the case and a criminal data analysis center entailing AI incorporated systems were set up to catch one of France's most prioritized fugitive. 
The triumphant collaboration between man and modern technology is in line with UAE's strategy to fight crime with tech on every level. Aside from cracking down on ill-famed criminals, smart surveillance is further supporting the Emirati officials to control the violations of traffic rules to evade accidents and save lives.
Read more: Google Maps to get over 100 updates, many of which are powered by AI and machine learning 
According to Brigadier Jamal Salem Al-Jallaf, director of the General Department of Criminal Investigation (CID), Bouchibi dodged agents for more than a decade and became a global trafficker shipping 60 tonnes of drugs to Europe every year with an approximated yearly street value of $82.6 million.
"In 2015, the Bordeaux Court sentenced Bouchibi to 20 years," he said. "Although French detectives had only a photo of Bouchibi from more than 20 years ago, our teams were able to identify Mouf's whereabouts by analyzing available data, pictures, and videos, and harnessing the latest artificial intelligence techniques available at the Criminal Data Analysis Centre," he further added.
Read more: IG Police inaugurates fully automated Complaints Redressal System in Peshawar
Image Source: Gulf Business