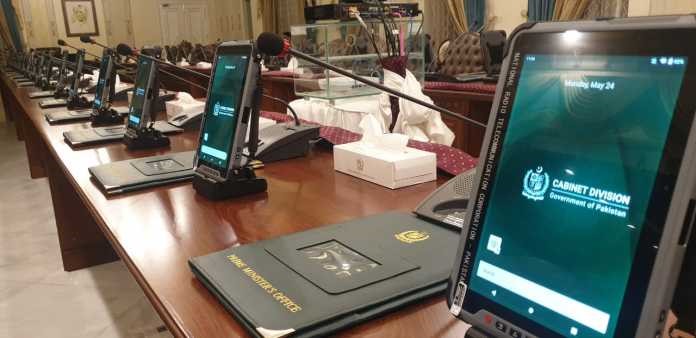 On Tuesday for the first time in the history of Pakistan, Prime Minister Imran Khan hosted the Federal Cabinet meeting completely paperless as all attendees used digital tablets.
This latest development was shared by the Prime Minister's Office on Twitter, describing it as a giant measure taken towards digital computerization of Cabinet Procedures. National Information Technology Board (NITB) performed a lead part in the process, harmonized with constant support by Ahmed Nawaz Sukhera, the cabinet secretary. 
Read more: PM inaugurates 'Ehsaas Saving Wallets' initiative for the financial inclusion of women
At a first, an entirely paperless Cabinet Meeting was held in Islamabad with Prime Minister @ImranKhanPTI in the chair. The members used digital tablets to mark the commencement of digital automation of Cabinet Procedures. — Prime Minister's Office, Pakistan (@PakPMO) May 25, 2021
Furthermore, the cabinet addressed the overall legislative and budgetary position of the nation besides the COVID-19 situation. Along with it, the Prime Minister informed that efforts are being made to make the young generation of Pakistan skilled. He stated that youth employment services are being executed, as well as more than 50,000 scholarships are being offered for high-tech studies.
Read more: PM Imran Khan terms the addition of Pakistan to Amazon's verified seller list as 'great development'
While briefing media persons about the decisions taken in the Federal Cabinet Meeting, the Minister for Information and Broadcasting Chaudhary Fawad Hussain announced that the Cabinet accepted a Special CPEC Business Visa to promote the Chinese investment in Pakistan.
The minister also informed that it will allow the Chinese investors to receive their visas within 48 hours and obtain the security clearance in 30 days. The information minister reported that the Federal Cabinet appreciated the budgetary unit for directing the country towards stability despite the difficulties that emerged from the COVID-19 pandemic and flawed systems of former regimes.
In addition to it, Chaudhry Fawad Hussain has further stated that said that Overseas Voters are the primary agenda of the electoral reforms. He said that the Election Commission of Pakistan (ECP) should implement immediate steps to bring them into our appointive process.
Source: TechJuice