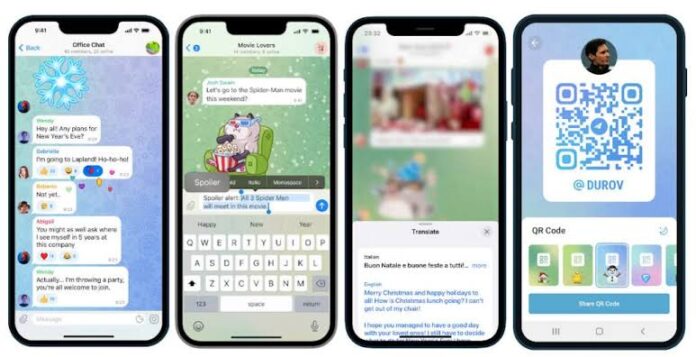 Telegram new update comes with a pack of new features for both Android and iOS. The new features include; Reactions, Message translation, Themed QR codes, and Hidden text (spoilers), the said features will make the app more interactive and lively.
Read more: Telegram 8.0.1 Update Gets Interactive Emojis, Chat Themes, and Read Receipts for Groups
Telegram's new pack of features will make the app space more happening
Telegram revealed its a pack of new features in a blog post. Everyone knows that when it comes to features Telegram has a name of its own and no other instant messaging app comes close, not even WhatsApp. Here is everything you need to know about Telegram's pack of new features:
Message Reactions: Double-tap a message to send a quick reaction. For more reactions, tap once on the message for Android and press and hold for iOS. Each reaction appears with its unique animation.
Spoilers: Select any part of your text when typing and choose the new 'Spoiler' formatting. This will hide the selected part of the message in the chat, as well as in the chat list and notifications.
Message Translations: You can translate any message into another language, right in the app by enabling translation in settings that will add a dedicated Translate button to the context menu when selecting a message.
Themed QR codes: Tap the new QR code icon next to the username of a person (or from a chat's info page), choose the colours and pattern that fit best, then print, post or share your QR code to other apps.
WhatsApp and Signal CEOs believes that Telegram is the worst choice 
Signal founder Moxie Marlinspike has said that when it comes to privacy and data collection there is no worse choice than Telegram. He said; "Telegram has a lot of compelling features, but in terms of privacy and data collection, there is no worse choice." Marlinspike's views were seemingly endorsed by WhatsApp CEO, Will Cathcart, who retweeted the thread.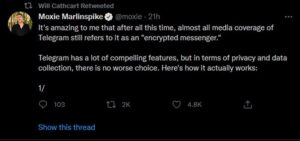 Source: GSM Arena