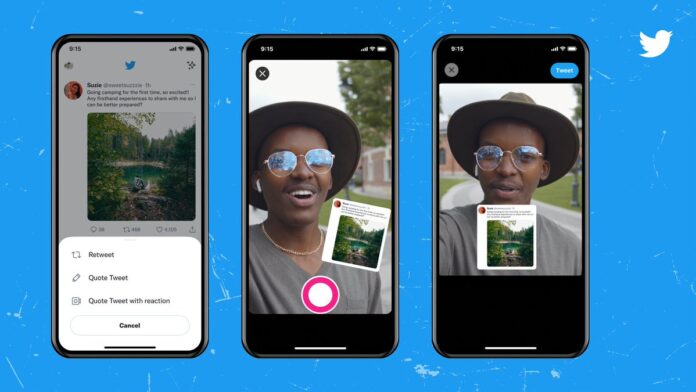 Twitter is now launching a new test feature that invites people to post video reactions to tweets instead of quote-tweeting the conventional way. The microblogging company has been actively experimenting with new products for some time now, including the now-retired disappearing tweets known as Fleets.
We want to give you more creative ways to join the conversation and express yourself on Twitter. Starting today, we're rolling out a test on iOS that gives you the option to Quote Tweet with a reaction video (or photo) with your very own Tweet Take.

Here's my take👇🏻📸 https://t.co/RLolp062GA pic.twitter.com/21qlYk2hh5

— Sam Haveson (@samhaves) January 6, 2022
Twitter is Working on More Creative Ways for Users to Express Themselves
The test is open to iOS for now and allows users to opt for quoting tweets with video reactions right from the retweet menu. Twitter states that it's only conducting the test of video reactions with a small subset of iOS users for now and will analyze feedback from the group to see how the feature goes. The firm says it wants to give users "more creative ways to express themselves" which follows with its generally experimental vibe recently.
Read more: Twitter Account of Indian Prime Minister Narendra Modi Gets Briefly Hacked
iOS Users Can Start Commenting with Video Reactions Using the Following Steps
Open the Twitter app, select any tweet and tap the Retweet button.
You'll see a new option to "Quote Tweet with reaction."
Tap that and record a video or capture a photo of yourself or anything else you want to.
The video and photo will also have the tweet embedded inside which you can drag or resize.
You can also use one from your phone's camera roll.
The quoted tweets with video or photos will appear in the timeline.
Last month, Instagram launched its own version of TikTok's video reactions to motivate people to reply to comments on posts via Reels. Given how video reactions make TikTok feel more interactive and alive, it makes sense that Instagram would incorporate the option into its current TikTok clone.
Source: TechCrunch