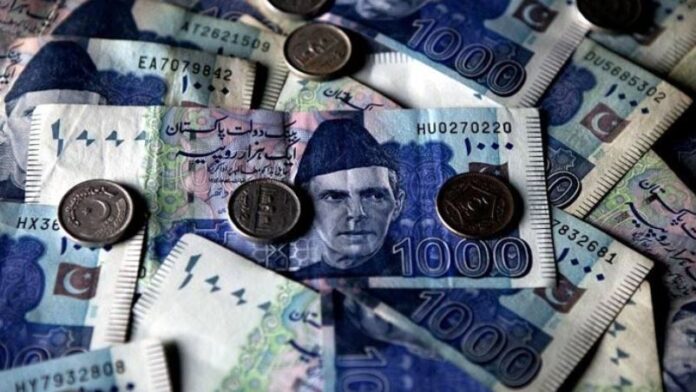 The Pakistani rupee is now on the continuous path to make gains against the US dollar in the interbank, on Monday it recovered by 29 paisas. According to details, the dollar closed at 204.56 rupees compared to the previous close of 204.85. In the open market, the dollar was being traded at Rs205.
Interbank closing #ExchangeRate for todayhttps://t.co/48gwBn6aN2 pic.twitter.com/7nRRCocmss

— SBP (@StateBank_Pak) July 4, 2022
During FY 2021-22, the rupee dropped to an all-time low of Rs. 211.93 against the dollar on 22 June. It lost 30 percent (Rs. 47.3) of its value against the USD during the period as compared to the record high of Rs. 152.27 recorded in May 2021. Since dropping to its lowest on 22 June, the PKR has gained Rs. 7.37 against the USD. Its recovery came on the back of advancement with the International Monetary Fund (IMF) after the broad agreement on the $6 billion loan program.
PKR Has Also Marginally Improved Against Other Major Currencies
The $2.3 billion loan facility agreement with a consortium of banks from China, the profits of which took State Bank of Pakistan's reserves above $10 billion, have also supported the rupee's recovery. The PKR also marginally improved against other major currencies in the interbank market today. It gained eight paisas against the Australian Dollar (AUD), 77 paisas against the Pound Sterling (GBP), and five paisas against the Euro (EUR).
Moreover, Pak-Kuwait Investment Company Head of Research Samiullah Tariq stated that progress in talks between Pakistan and IMF is driving positiveness in the currency market. "There is anticipation in the market that IMF will announce the resumption of the Extended Fund Facility very soon and this is causing the appreciation," stated Tariq.
Rupee is Witnessing Recovery as Government Increased the Prices of Petroleum Products
"Rupee is witnessing recovery as the government has passed on the impact of high fuel cost to the consumers and ended the subsidy." He stressed that owing to the spike in the prices of petroleum products, oil consumption has dropped, which is signaling a drop in the import volume and helping the local currency.
Read more: Pakistani Rupee and Stock Market Finally Bounce Back After a Hike in Petrol Price