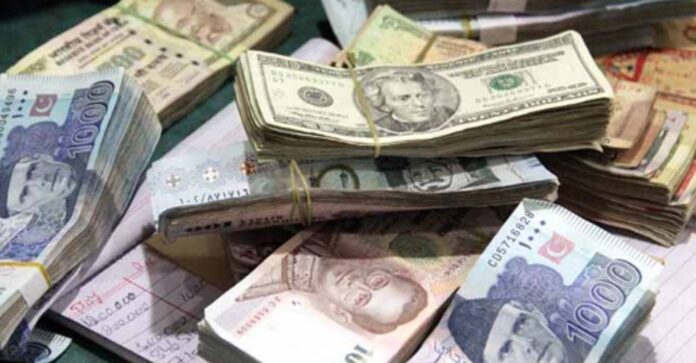 On Friday, the Pakistani rupee finally cracked its losing streak against the US dollar by gaining Rs2.40 by close a day after the government decided to raise the fuel price cap to concede to the requirements of the International Monetary Fund (IMF). As per the Forex Association of Pakistan (FAP), the US dollar closed at Rs199.60, after depreciating against Thursday's close of Rs202.
The Decline in the Pakistani Rupee Was Due to the Country's Increasing Import Bill 
The much-awaited stability comes after weeks of continuous declines in the Pakistani rupee's value, which has been mainly attributed to the country's increasing import bill, enlarging current account deficit, and draining foreign exchange reserves. Since the PML-N-led coalition government took over on April 11, when the US dollar was valued at Rs182.30, the Pakistani rupee has increased by Rs19.
Furthermore, FAP Chairman Malik Bostan stated that the Pakistani rupee was appreciated because the government decided to end fuel subsidies. "We hope this will pave the way for a loan from the IMF and an agreement will soon be reached which will further ease the pressure on the rupee." It will further help boost foreign exchange reserves, he added.
Moreover, Zafar Paracha, secretary-general of the Exchange Companies Association of Pakistan, stated that the overnight increase in fuel prices was a "strong step" in towards reviving the IMF program. "It is helping the KSE-100 recover some of its sharp losses earlier this month, and also giving confidence to the foreign exchange market," he further stated, adding that the markets were eased that the "doomsday scenario of a default" would likely be avoided now.
The Government Has Increased Fuel Prices by Rs30 Per Liter
On Wednesday night, the government increased the prices of all petroleum products by Rs30 per liter — the highest-ever increase in the prices of all petroleum products in one go — in a bid to rein in the fuel subsidies that had been a sticking point in talks with the IMF and resumption of a $6 billion facility, which has been delayed since early April.
Today's Recovery of Stock Market is Attribute to the Increase in Petrol Price
In addition to this, the Pakistan Stock Exchange's (PSX) benchmark KSE-100 index opened in the green on Friday, continuing its momentum from the previous day and soaring more than 900 points in the first hour of trading, just hours after the government raised the prices of petroleum products to comply with IMF stipulations. According to the PSX website, the index reached 43,554 by 2:35 pm, up 1,013 points or 2.38 percent. The recovery of the stock market was attributed to the government's move to end a months-old fuel price freeze, introduced by the previous PTI government in February.
Read more: Government Bans Import of Non-essential, Luxury Items as Rupee Dips to Record Low