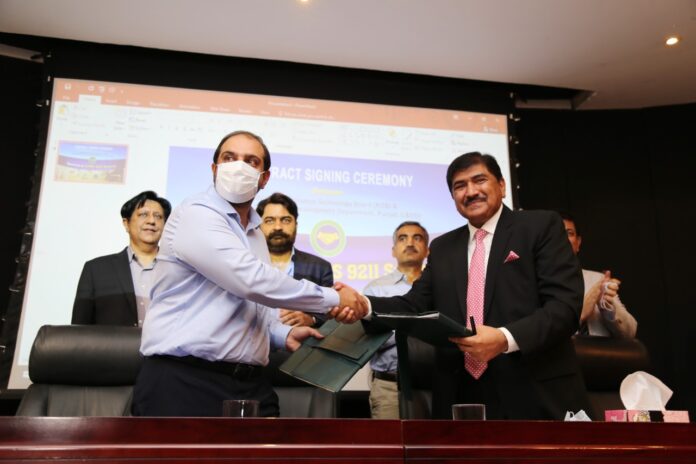 Punjab Information Technology Board (PITB) and Punjab Livestock and Dairy Development Department (L&DD) have inked an agreement to build up the strength of the performance management system, generally recognized as SPMS 9211, in a ceremony taking place on Thursday.
PITB DG-IT Operations Faisal Yousaf and L&DD Director Dr. Muhammad Ashraf agreed to the arrangement in the attendance of Punjab Higher Education and Information Technology Minister Raja Yassir Humayun Sarfraz and Punjab Livestock Minister Sardar Hasnain Bahadar Dreshak. PITB Chairman Azfar Manzoor, Punjab Livestock Secretary Asad Rehman Gillani, and other senior executives were also present on the occasion.
Read more: PITB digitizes farming, as Bardana App registers 56,997 farmers and issues 631,000-ton Bardana
As per the said agreement, the PITB will spread its Information and Communication Technology (ICT) support to rebuild and improve the SPMS 9211 scheme for the benefit of the farmers across Punjab, to enhance the administration in the region. The PITB will functionalize the system and will digitize it further by developing an Android and web application of SPMS 9211.
Furthermore, speaking on the event, Minister Raja Yassir Humayun Sarfraz stated that the Punjab government is committed to improving governance by employing advanced ICT interventions. "Revamping SPMS 9211 is one such step towards remodeling the services of the livestock and dairy development department for the welfare of the farmers," he added.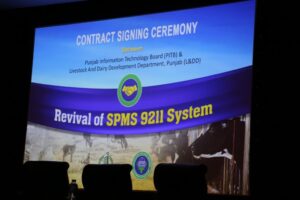 Read more: E-Rozgaar graduates earned Rs. 2.4 billion last year proclaims PITB while announcing new admissions
Moreover, Sardar Hasnain Bahadar Dreshak also commented on the occasion, "SPMS 9211 System caters to the welfare of 9 million farmers. Automation of this system will enhance the service delivery and efficiency of the department." 
In addition, it is to note that the SPMS 9211 system designates a multi-channel information network for the well-being of farmers by facilitating numerous services, such as farmer enrollment, medication, disease warnings and diagnostics, vaccination, execution monitoring, ticket management, transportation monitoring, contact center, supply chain management, store management, cold chain management, and geo-tagging.
Source: TechJuice