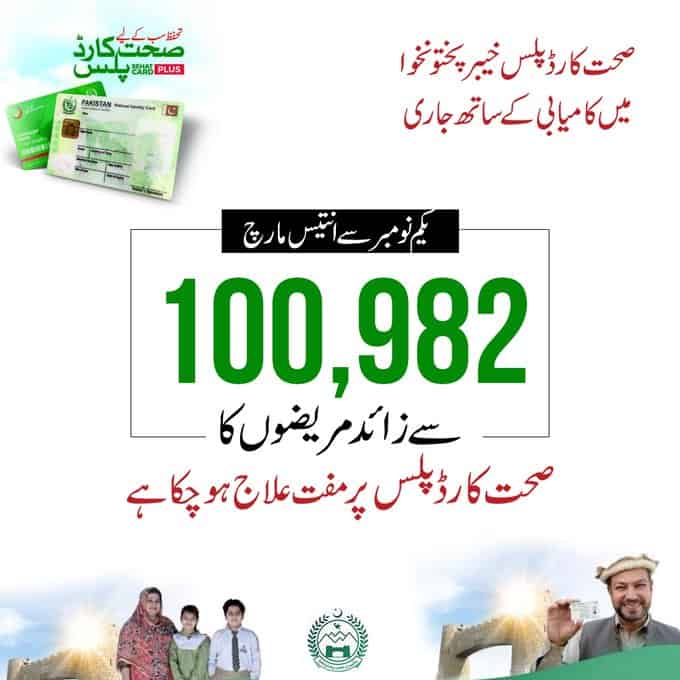 The finance & health minister, KPK, Taimur Khan Jhagra, revealed that the Khyber Pakhtunkhwa government's new Sehat Card Plus Universal Health Insurance program together managed to provide free treatment to over 100,000+ needy people with limited means.
The Khyber Pakhtunkhwa government provided this free treatment within the period of five months  (1st Nov – 29th March). The minister managed to achieve a milestone and also added that 35,000 people are getting the treatment done on a monthly basis, up from 7,000, under the old program.
The following is executed at Health Department in the KPK province, through which the government has thought to implement Sehat Card plus scheme, which aims to provide free medical treatments (also covering treatments for COVID-19) to over 6.5 million families and 40 million Khyber Pakhtunkhwa citizens. Rs. 1 Million is being provided for health treatment facilities.
Read More: Pakistan's first-ever Crypto Advisory Committee formed in KPK
In addition to it, the SSP program aims to help a good amount of poor population with Providence of good medical facilities through a micro health insurance scheme.
It was last year when Prime Minister Imran Khan announced universal health coverage to everyone in Punjab and Khyber Pakhtunkhwa through the Sehat Insaf card within a year in several phases.
In order to subscribe for the Sehat Card, one should Send their  National Identity Card Number to 8500, to check their eligibility for the program.
Image credit: Techjuice
Also Read: American IT company, Afiniti to construct Tech city in the province KPK