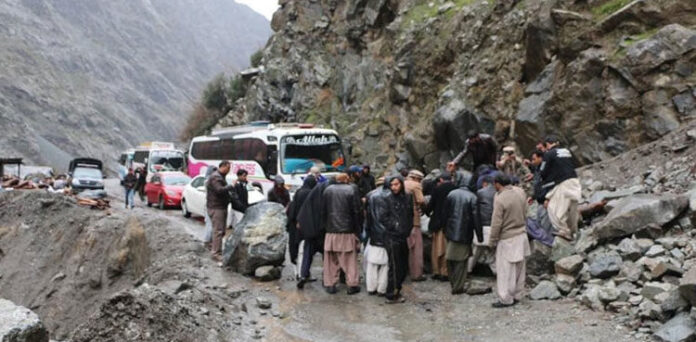 The monsoon season in Khyber Pakhtunkhwa (KP) and Gilgit Baltistan (GB) has led to a surge in reports of travelers getting stuck on the Karakoram (KK) Highway. Among the recent incidents, a harrowing landslide occurred on the Gilgit-Skardu Road, leaving hundreds of travelers stranded. Fortunately, no fatalities have been reported, but the incident serves as a highlight of the challenges faced by road infrastructure during the monsoon season.
Landslide on Gilgit-Skardu Road
A recently circulated video on social media captured the terrifying moment when a landslide occurred on the Gilgit-Skardu Road. The incident occurred due to heavy rainfall and resulted in the blocking of the road. Despite the magnitude of the landslide, there have been no reports of casualties. However, the incident has left hundreds of travelers stranded, emphasizing the need for prompt action to clear the road and restore transportation.

Heavy Downpours of Monsoon Season Disrupt Travel
The National Highway Authority's (NHA) deputy director for Shangla and Kohistan in KP, Ghulam Abbas, informed the media about the efforts being made to clear the Karakoram Highway at various locations affected by the floods. The Frontier Works Organisation (FWO) is actively involved in the clearance operations at Jijal, Pattan, Uchar Nullah, and other areas. However, the restoration of the Uchar Nallah bridge, which was destroyed by floods last year, is still pending.
In Upper Kohistan's Harban tehsil, severe rainfall caused streams to overflow, leading to road blockages, damage to pedestrian walkways, and disruption of water delivery facilities. Asadullah Khan, chairman of Upper Kohistan's Harban tehsil, highlighted the extent of the damage caused by the floods. Efforts are underway to clear the highway at Basari and Gadoon, as these areas were also severely affected by the monsoon floods. The destruction of the Karakoram Highway to the Harban Valley, water supply lines, and pedestrian routes has posed significant challenges for the local villages.
Also read: Pakistan Likely to Face More Internet Outages Due to Floods