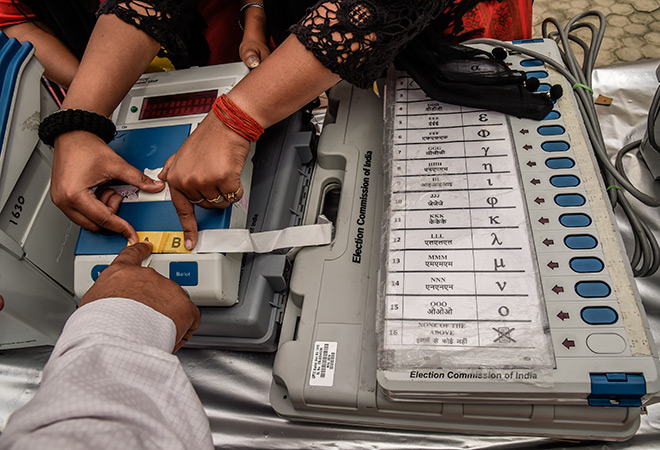 The Election Commission of Pakistan (ECP), the country's highest electoral body, on Wednesday chose to consult all political parties on the adoption of electronic voting machines (EVMs), emphasizing the requirement for bringing all stakeholders on board before finalizing any decision.
The ECP, which has been planning to enhance the voting process, had called a meeting to have a demo on EVM prototype from the Ministry of Science and Technology. The meeting was chaired by Chief Election Commissioner Sikandar Sultan Raja. The meeting was attended by the ECP secretary and senior administrators.
Read more: ECP deletes its Twitter post concerning EVMs as expensive fraud formula following backlash from the govt
The ECP also had its second meeting concerning internet voting. The Information Technology Ministry executives, other senior officers, and a Spanish consultancy company briefed the panel on the technical audit report of the National Database and Registration Authority (NADRA)'s internet voting system. 
In the said report, the consultancy agency has compared NADRA's i-voting system with the systems of France, Mexico, and Estonia. Executives informed the ECP that France has discontinued using i-voting while Mexico and Estonia are still using the system.
The Spanish consultancy company stated that "NADRA's i-voting system is not at the international standard, and suggestions have been issued for making it as per the global technology. The CEC has also called a meeting next week to review the Spanish consultancy's report in detail.
Read more: President determined to introduce EVMs, pushing aside the reservations of opposition parties
This new development occurs after the Pakistan Democratic Movement (PDM), last month, had rejected the government's "one-sided" electoral reforms, which involve the employment of electronic voting machines (EVMs), and declared a new wave of antigovernmental protests.
"PDM rejects the government's unilateral electoral reforms ordinance, including the voting machines, and terms it as pre-poll rigging," PDM chief Maulana Fazlur Rehman announced, as he addressed the reporter alongside PDM leaders. Meantime, in response to PDM's press conference, Minister for Information and Broadcasting Fawad Chaudhry stated that the Opposition does not want to consider electoral reforms, and at the same time, demands reforms.
Source: Geo News