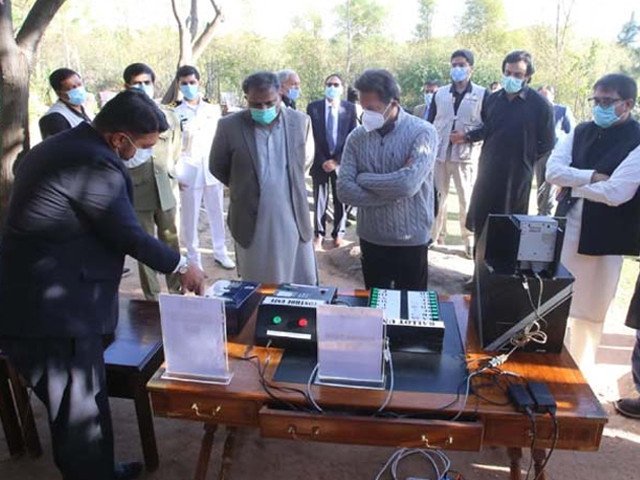 The Election Commission of Pakistan (ECP) on Saturday shared on its official Twitter handle a video of a reporter criticizing e-voting machines (EVMs) only to remove it a few hours later. In the short video, the journalist can be heard expressing his concerns over the usage of "expensive" EVMs, and vocalizing against their application in the general elections, insisting that they were a hoax. As per the ECP, its Twitter account is operated by its IT department.
The tweet stayed for two hours and was later removed following an uproar. In response to this incident, the Minister of State for Information and Broadcasting Farrukh Habib tweeted that the ECP was a constitutional entity. "It should keep in check what kind of material is being shared on its official Twitter handle and who is doing it," he added. "How can you describe EVMs as a fraud? The matter has to go to parliament and the chief election commissioner should give an explanation." ECP Director Altaf Ahmed Khan declared that the incident only transpired because of an "error".
Read more: E-voting machine will provide election results in just 20 minutes, says Fawad Chaudhary
He further added that the commission's position on e-voting machines issued on May 20 should be considered its official perspective on the subject. Earlier this month, President Arif had proclaimed the Elections (Second Amendment) Ordinance 2021 under Article 89 of the Constitution only two days after National Assembly Speaker Asad Qaiser organized a committee of the cabinet members to engage the opposition on the subject of electoral reforms. PPP described the parliamentary committee on electoral reforms as toothless and stated that it had no charge and control.
Read more: President Alvi invites opposition parties to witness the demonstration of the e-voting machine
However, the PTI party stated that it wanted reforms in the electoral system with the initiation of the latest technology to incorporate clearness and credibility to the election process. On Thursday, the ECP established a committee for the acquisition of EVMs and to facilitate overseas Pakistanis to utilize their right to vote while staying in their respective countries of residence. The committee will be following the direction of the ECP secretary and will deliver its recommendations in the next meeting.
Read more: Shehbaz Sharif rejects PM's proposal to use e-voting machines in next election
Source: Express Tribune