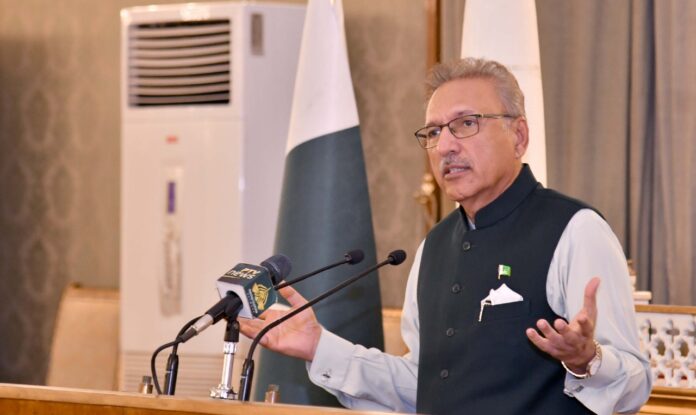 President Dr. Arif Alvi once again emphasized the necessity for expediting electoral reforms in line with the Supreme Court of Pakistan's directives to facilitate overseas Pakistanis to cast their votes through internet voting, ignoring the reservations of the various stakeholders including the opposition parties.
Recently, the Pakistan Democratic Movement (PDM) has publicly rejected the government's "one-sided" electoral reforms, which incorporates the adoption of electronic voting machines (EVMs), and declared a fresh tide of anti-government protests.
"PDM rejects the government's unilateral electoral reforms ordinance, including the voting machines, and terms it as pre-poll rigging," PDM chief Maulana Fazlur Rehman stated, as he spoke in a press interview alongside PDM leaders.
Read more: PDM rejects the government's proposal of using EVM in the next general elections
The president, chairing a meeting regarding the Electronic Voting Machines (EVMs), stated that the federal government wanted to facilitate and assist the Election Commission of Pakistan (ECP) to implement the electoral reforms, especially i-voting for emigrants the deployment of EVMs in polls. He hopes that i-voting and EVMs would considerably assist in promoting transparency and guarantee the reliability of the electoral process in the nation.
Read more: President Alvi invites opposition parties to witness the demonstration of the e-voting machine
Furthermore, the Ministry of Science and Technology informed the meeting that they were diligently working on developing the prototype EVM as per the specs provided by the stakeholders. It is to be perceived that the government has continued its accelerated shift towards an electronic voting system despite clear reservations by the opposition parties and the election commission. 
Previously, Fawad Chaudhary had declared that the Election commission would get e-voting technology soon. At the same time, the IT minister had also shown confidence that Pakistan's next election will incorporate E-voting.
Read more: ECP deletes its Twitter post concerning EVMs as expensive fraud formula following backlash from the govt
Source: TechJuice