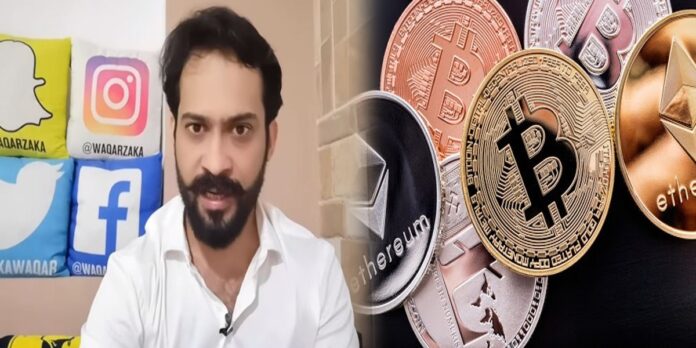 Pakistani social media celebrity, Waqar Zaka is nominated by Binance for 'The Binance Influencer Award.' Binance coin is the crypto-coin issued by the Binance exchange with a BNB symbol this coin operates on the Ethereum blockchain. It supports multiple utilities such as trading fees, exchange fees, and any other fees on the Binance exchange.
A total of five influencers from around the world are nominated for the award by the crypto company, including Pakistani social media and TV show host Waqar Zaka. The company tweeted the names of all the nominees for the Bananas Influencer Awards 2021.
Nominations for the 2021 #Binance Influencer Awards are in!

The 5 global finalists are:@intocryptoverse@MustacheTommy@papacthulu@ugliestduck@ZakaWaqar

Vote before June 28 to make sure that your favorite crypto influencer comes out on top🥇

➡️ https://t.co/qwPq07SFmt pic.twitter.com/WZZ61c4BRh

— Binance (@binance) June 24, 2021
Waqar Zaka, a famous Pakistani TV Host with millions of followers, gained fame from controversial reality shows. He is popular for practically supporting people in cases varying from cybercrime to harassment and from acid sufferers to child abuse. Currently, he is seen educating people, from different walks of life, about cryptocurrencies.
Waqar Zaka's name afloat as a top Twitter trend in Pakistan hours after the news broke out, hundreds of people expressed happiness over his nomination and hoped that he would win the award. People expressed their opinions on his nomination saying that the award of 'Best Influencer' should go to Waqar Zaka because he is playing a pivotal role in legalizing cryptocurrency in Pakistan – Waqar has utilized his social media platforms to spread awareness about cryptocurrency, he is also playing an effective role in legalizing cryptocurrency in Pakistan. It is expected that soon we might hear some good news regarding the regulation of cryptocurrencies in Pakistan.
Read more: Waqar Zaka claims to pay Pakistan's debt off using crypto If Imran Khan steps down
Waqar has efficaciously persuaded the KP government for allowing him to operate a crypto mining farm, and as per the latest advancements, mining devices scuttling on hydropower have been installed in the KP region. The first meeting with the Advisory Committee for cryptocurrency and crypto mining started in KP earlier this month, the committee surveyed and talked about the essential phases to legalize and preside over the necessary legislations required to authorize cryptocurrencies. There are split opinions considering the trading in cryptocurrencies, many countries have not yet authorized digital currency payments to avoid any fraudulent activity.
Source: Bol News