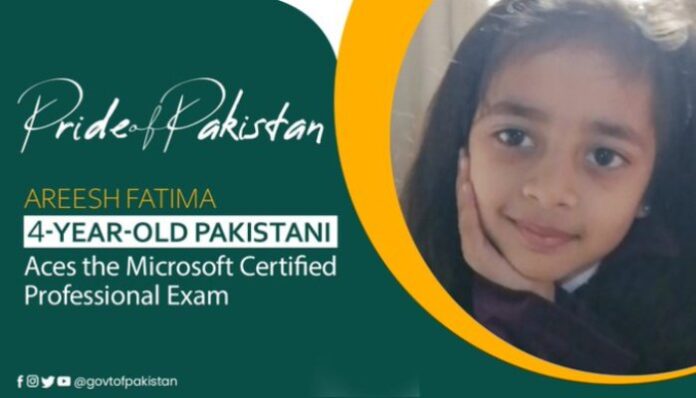 Arish Fatima, a 4-year-old genius from Karachi, achieved a milestone by becoming the youngest Microsoft Certified Professional. Just four years old, Arish Fatima has established a unique model by obtaining 831 marks in the Microsoft Certified Professional (MCP) exam, as announced by the Government of Pakistan via Twitter on Friday.
The tech giant, Microsoft offers competitive exams for many of their technologies such as .Net Framework, Windows 7, Windows Server 2008, etc. Each of the exams has a particularized exam code. The exams are based on multiple-choice problems. Normally, each exam consists of 50-60 MCQs and carries 1000 points. 
Read more: KPK passes a resolution for initiating Facebook monetization in Pakistan
In addition to it, the previous youngest MCP was a boy named Ayan Qureshi belonging from the United Kingdom, he also has passed the Microsoft exams at just the age of 5. Ayan had secured the youngest MCP title while playing with his father's old computers and learning how operating systems operated. 
Read more: Pakistan develops its first-ever refrigerated seawater fishing boat to improve the fisheries sector
From that phase on, he discovered the motive to head for the tech giant's exams. Similar to Ayan, Arish had exhibited the same level of enthusiasm and interest towards computers and technology.
The minimum score for passing the MCP exam is 700 whereas Arish broke the world record to accomplish great success and made Pakistan proud around the world. Moreover, Arish's father, who also achieved the milestone at a very young age, stated that while operating from home during the pandemic lockdown, he observed his daughter's interest in IT and supported her in this test. Her father, Osama is also an IT specialist and sees his daughter performing wonders in this domain. Arish's parents say that their daughter is "extremely capable and has extraordinary abilities."
Read more: Pakistani e-Learning platform 'Skills Todo' continues to rank 2nd at Startany.com for 3 months in a row
Source: Geo News