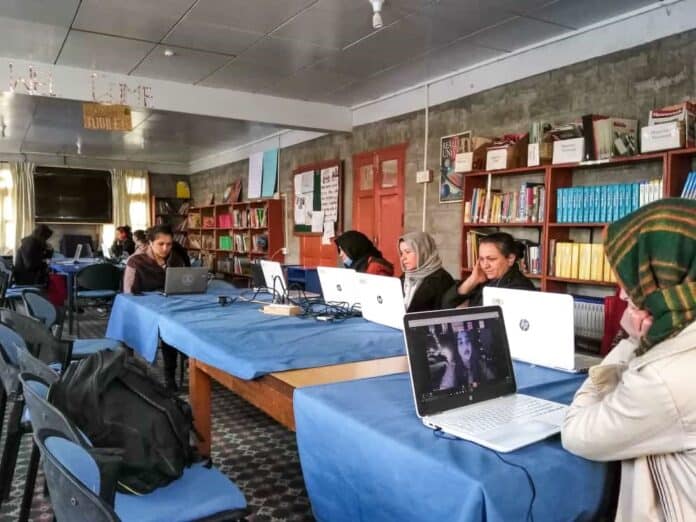 Working in a digital environment is essential these days. This is playing a vital role around the world. But, taking the digital environment to village-like areas turn out to be a difficult task. A similar step was taken in the form of Bootcamp for Gilgit-Baltistan
To make a digital environment possible in such areas requires endless efforts, especially for the women in Pakistan. To bring this thinking into existence Pakistani-based start-up CIRCLE organized a Digital Skills Bootcamp for the women in Gilgit-Baltistan (GB), to include all women in the digital area and provide them a fresh and newer experience. The Bootcamp was initiated in collaboration with Rupani Foundation.
The CIRCLE is a social enterprise working on women's empowerment and leadership development, as well as digital equity. The Bootcamp in Gilgit-Baltistan was held for 10 days between 25 February to 10 March, and 30 students joined from SOST and Gulmit.
The idea behind the program is to motivate women towards entrepreneurship through digital skills. During the start of the Bootcamp, only 53% of the women were found socially active. The count gradually enhanced and 100% of the women showed the digital presence towards the end of the Bootcamp.
The topics covered in the Bootcamp included, 'Introduction to Digital Marketing', 'SEO', 'Creating Content', 'Life Skills like Confidence and Resilience'.
There were some guest speaker sessions arranged which included one of the Tech Karo alumni and experts from the digital and entrepreneurship field.
Read More: Provision of 3G, 4G internet services in Gilgit-Baltistan are vital for promoting tourism: PM
A digital graduation ceremony was held where all the participants along with official members of the Bootcamp showed up.
Sadaffe Abid, Founder of CIRCLE said, "Digital skills are the need of the hour, to serve this purpose we have designed a Bootcamp for teaching Digital Marketing under which 30 women are being trained. This will increase the strength of women in tech-related areas." by saying so the importance of Digital Skills was explained.
Seema Ali, the Communications Lead from Rupani Foundation emphasized the need to support the youth and women of Gilgit-Baltistan by saying,  "The focus of Rupani Foundation is to create employability through demand driven and marketable skills. The overall idea is to support the youth of Gilgit-Baltistan to absorb themselves into an increasingly digital world economy. Pilot boot camps provided young women a much-needed platform to nourish their abilities in digital skills."
She said that the following initiative will result in bringing drastic change in the environment of Gilgit-Baltistan by raising awareness and creating opportunities in the new normal times.
Image Source:  Mashable Pakistan
Also read: Govt to launch 4G broadband services in AJK and GB on March 23