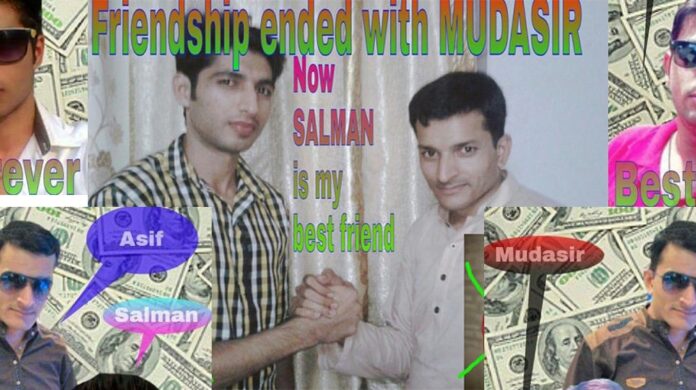 Popular Pakistani meme 'Friendship Ended with Mudasir', which is apparently the first one that went viral back in 2015, has been auctioned for $53,000, equivalent to 20 Ethereum tokens. According to reports, a Lahore and UK-based startup named Alter sold the said meme from Gujranwala for 20 Ether, or equivalent to $53,171 on Sunday.
The said meme consisted of Mudasir's crossed pictures at the bottom and received over 10,000 shares on social media. The picture was posted by Muhammad Asif Ali Rana with his friend on his Facebook account. Both of the friends were shaking hands. The photo had bold and multicolored text that stated, "Friendship ended with Mudasir: Now Salman is my best friend".
Read more: Viral meme 'Friendship ended with Mudasir' set for NFT auction on World Friendship Day
Moreover, the co-founder of Alter, Zain Naqvi stated that the viral meme was sold on Foundation – the world's biggest platform for NFT listings – and the minimum bid price was 1 Ethereum token or $2320. Later over the weekend, the NFT traded it for 20 Ether at a point when Ethereum was trading at $2,562 per coin on the global trading board.
Read more: Facebook is now testing alerts asking users if their friends are becoming 'extremists'
NFTs are digital codes associated with blockchain technology, which is saved on a decentralized public ledger that guarantees any digital file to be unique. "It is a life-changing moment for the creators," Naqvi added.
Despite Rana's public demotion of Mudasir in the pecking arrangement, his live stream on Facebook after the sale explained that they were still friends all those years even after such a public fallout. "We all are together and we meet at times as well," he said. Concerning the sale itself, he stated, "I am very very thankful to all the bidders who put the big bids on our Friendship Ended message". Meantime, the post now has over 47,000 likes, 27,000 comments, and 56,000 shares.
Source: Pro Pakistani