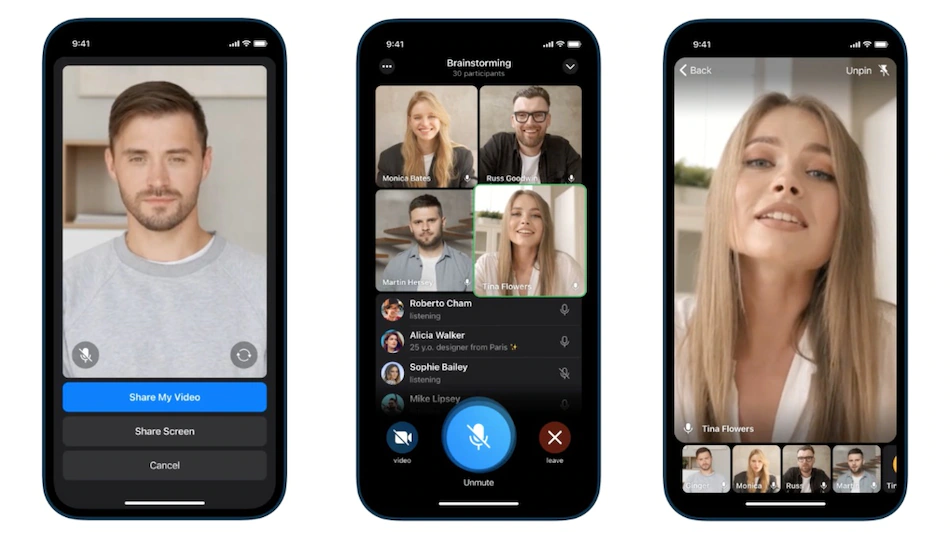 A popular messaging app, Telegram, introduces new features to its app. The most notable of which is "Group Video Calls 2.0." After launching group video calls last month, those sessions can now be broadcasted to 1,000 viewers at once. The maximum number of people able to participate and broadcast to the video call remains at 30, but group video calls can now have quite the audience for anything from online lectures to live rap battles and concerts.
Video Messages have also been updated to 2.0. This means that those circular press-hold video messages are now higher-resolution and users can hit the message to enlarge the circular video, it can also be paused and scrubbed through. Telegram also enables audio from the device to keep playing in the background while recording video messages. Additionally, recording with the rear camera let users pinch to zoom in and capture things at a distance or add a dramatic effect.
Read more: Telegram rolls out new updates comprising group video calls, screen sharing, and animated backgrounds
Interestingly, the latest update includes WhatsApp look-alike feature, where Telegram users can watch the videos at 0.5X, 1.5X, or 2.0X speed, android will also support 0.2X speeds. Screen sharing is also added to one-on-one calls that will allow users to share their screen with audio, there is an option of video preview to test things before going live. The iOS app also gets integration with the camera app on iOS. So, any user can switch to the zoom or wide cameras when taking a photo directly on the Telegram app.
The new update also brings several more features, such as; drawing more precisely on images through the Telegram editor, auto-deleting messages after one month, there are more animations on the passcode screen, messages sent to a chat will animate in a new way, a password reset option has been added to help recover a password in seven days, and new animated emojis – including; fist bump, broken heart, and sad-face emojis – are added as well.