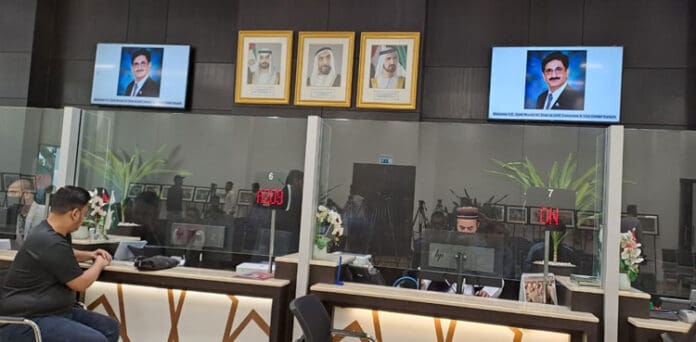 The United Arab Emirates has opened Asia's biggest visa center in Karachi's Defence Phase 5 Khadda Market. The UAE visa center features 11 counters and which will provide consular services in accordance with the latest international standards. Earlier in the day, the Chief Minister of Sindh, Syed Murad Ali Shah, also visited the UAE visa center on the invitation of United Arab Emirates Consul General Bakheet Al Romaithi who said that the center has been established to save time.
UAE Visa Centre to Facilitate The People of Sindh and Balochistan
The initiative to establish the visa center in Karachi aims to facilitate people from Sindh and Balochistan and make it easier for them to obtain visas without having them travel to Islamabad. The citizens, who had applied for the visas, expressed their happiness with this initiative of the UAE. Murad Ali Shah thanked the UAE government for providing convenience to the people of Sindh by establishing the best visa center. "I believe it would not be an exaggeration to say this Center is the window of employment in the UAE," he said.
As per details, UAE houses 1.7 million Pakistanis. It can allude to the fact that the volume of remittances from the UAE to Pakistan in the fiscal year 2022 was $2555.22 million, implying a sizeable Pakistani workforce being employed in the country in diverse fields. CM Sindh said that the inauguration of a modernized visa center in Karachi, Pakistan, and the UAE have laid strong foundations of bilateral relations, friendship, and cooperation over the years.
Wizz Air Launched in Pakistan
Recently, one of the largest airlines in UAE, Wizz Air has been granted permission from Pakistan's Civil Aviation Authority to fly from Abu Dhabi to Islamabad. The Chairman of Wizz Air Abu Dhabi and Chief Executive of the Wizz Air Group said; "Our state-of-the-art Airbus A321neo aircraft, as well as our enhanced protective measures, will ensure the best possible sanitary conditions for travelers. Wizz Air is the lowest-cost producer operating the youngest and most economically efficient fleet of aircraft with the lowest environmental footprint. I'm confident Wizz Air will make a profound impact on the United Arab Emirates' economic development and the ramp-up of its tourism industry."
Also read: UAE Bans Two More Pakistani Cities for Visit Visa Issuance