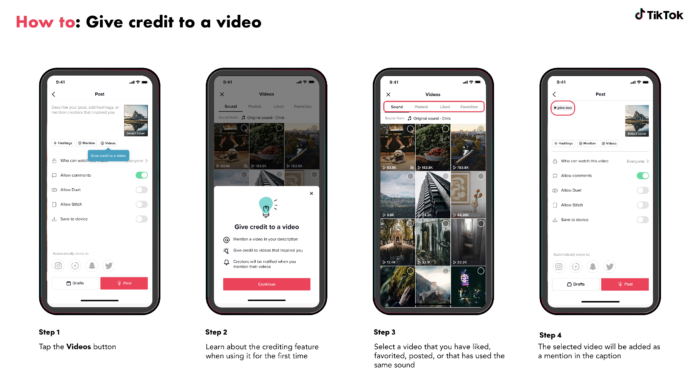 TikTok is now introducing a creator crediting tool that enables users to directly tag and credit videos using a new button in the app. The feature will roll out over the next few weeks. The new creator crediting tool is part of an effort to promote the TikTok community to credit creators and trend originators. The tool allows you to tag, mention, and credit a video in its description.
The New Creator Crediting Tool Comes After Black Creators Held a Strike 
Presently, when TikTok users choose to credit a creator they tag them in the caption or comments of the video, but the new creator crediting tool allows you to credit specific videos. The tool comes nearly a year after Black creators held a "strike" to oppose uncredited viral TikTok dance trends. The strike was an outcome of years of white creators profiting from Black creators' choreography and work.
As a result, TikTok users now include a dance credit or "dc" in the caption of their videos. TikTok's announcement of the creator crediting tool also comes at the time of Instagram adding enhanced tags to help Black and underrepresented creators get credit for their work. TikTok says the new crediting feature aims to encourage equitable creator amplification. 
TikTok is Promoting a Crediting Culture on the Platform
"These features are an important step in our ongoing commitment to investing in resources and product experiences that support a culture of credit, which is central to ensuring TikTok remains a home for creative expression," wrote Kudzi Chikumbu, the Director of Creator Community at TikTok in the U.S., in TikTok's announcement.
TikTok released a step-by-step guide for how to add a video credit to a post:
Create or edit a TikTok video.
On the posting page, tap the new "video" icon.
Once on the video tag page, you can select a video that you have liked, favorited, posted or that has used the same sound.
Once selected, the video tag will be added as a mention in the caption.
Read more: A Female TikToker Sets Trees on Fire for Dramatic Effects in Her Video