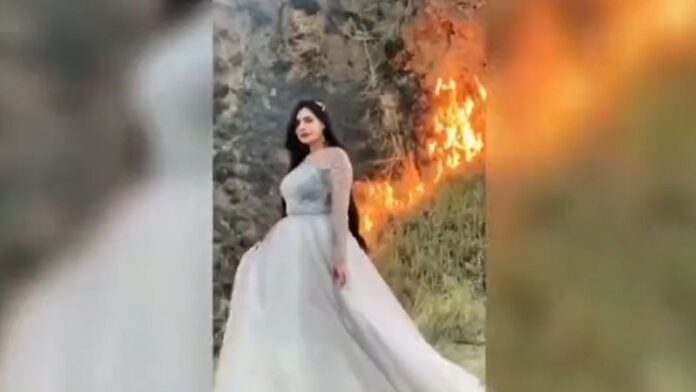 In the upscaling of TikTok trends, three Pakistani TikTokers took a next-level step to make their videos viral. These Pakistani content creators set parts of the Margalla Hills on fire to get dramatic effects in their videos. As a few days back, a video of two young people setting the forest on fire at Margalla Hills for a TikTok video attracted widespread criticism and outrage. In the video, a TikToker could be seen setting the forest on fire with a lighter.
TikTokers Are Setting Fire to Trees to Gain Dramatic Effects in Their Videos 
Moreover, in another viral video, a female TikToker can be seen setting fire to the trees in Margalla Hills to add dramatic effects to her video. Dozens of trees were burnt to ashes to create a dramatic effect for the viewers in the footage. Currently one of the offenders is in custody while environment administrators are striving to register a case against these Pakistani TikTokers.
Meanwhile, the environment unit of the Capital Division Authority in Islamabad has applied with the Kohsar Police Station, seeking an inquiry against Islamabad-based female TikToker, Dolly, under the Environment Protection Act 1997. In addition to this, sharing the video of the female TikToker on Twitter, Islamabad Wildlife Management Board Chairperson Rina Khan condemned the acts for just mere dramatic effects in a video. "This is a disturbing and disastrous trend on TikTok," she said. "Young people desperate for followers are setting fire to our forests during this hot and dry season."
Australia Imprisons People for 21 Years in Prison Over Starting a Bushfire
She further called on the authorities to arrest those involved in the videos and those who had set forests on fire immediately. She further expressed the desire for more severe penalties for those starting wildfires, pointing to Australia where people found guilty of intentionally starting wildfires are convicted for life. The government of New South Wales in Australia has established a law that lists the maximum sentence for starting a bushfire as 21 years in prison.
Read more: Former Content Moderators Sue TikTok for Work Trauma
Source: Samaa