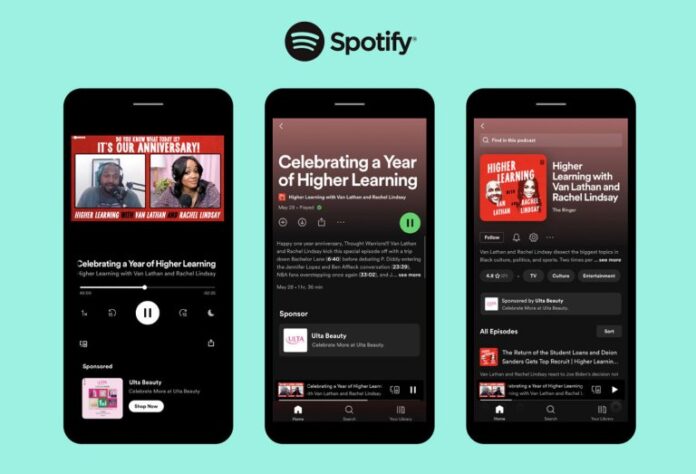 Music streaming service, Spotify is now launching a new ad format aimed at podcasters called 'Call-to-Action Cards' or CTA cards, for short. The new feature is powered by Spotify's streaming ad insertion technology, will display a visual ad in the Spotify app when the audio ad begins to play. The call-to-action cards can be customized by advertisers with their own photos, text and other clickable buttons that direct listeners to "shop now" or take some other measure the advertiser is hoping to inspire.
A New Tactic for Targeted Listeners to Interact with Ads
While the ads are competent of catching users' attention while streaming, Spotify understands that listening to podcasts is often an exercise where the app is operating in the background while the user is doing something else — like going for a walk, exercising at the gym, doing housework, driving and more. That's why Spotify is also making the new call-to-action cards available on both the podcast's show and episode pages. This lets the targeted listeners interact with the ad at some later point when they're browsing through the Spotify app, the firm explains. 
Read more: Tinder Partners With Spotify to Roll Out a New 'Music Mode' Feature
Launching Call-to-Action Cards is an Important Step Towards Modernizing the Format
"We think about these cards as an important step towards modernizing the format — a format that will become more capable over time, as we add shoppable and video and other interactive features into them," said Jay Richman, Spotify's director of Ads Business & Platform, when launching the new call-to-action cards during a press briefing as a part of the organization's virtual participation at this week's Consumer Electronics Show.
In addition to this, back in 2020, Spotify acquired the podcast hosting and ad company Megaphone for $235 million to help scale streaming ad insertion beyond its own shows to reach publishing members through the Spotify Audience Network — a network that now comprises shows from independent creators employing Spotify's Anchor platform. 
Source: TechCrunch