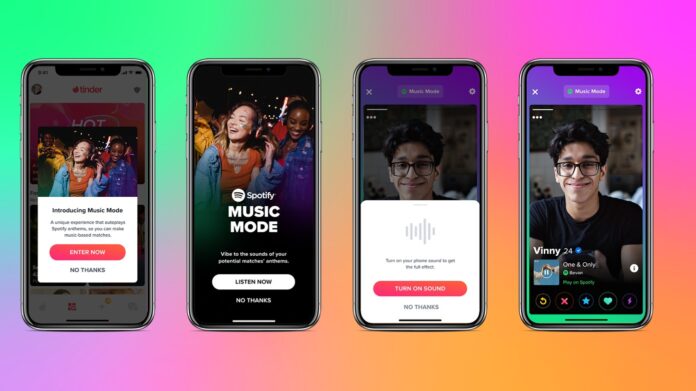 In the recent news, Tinder is now collaborating with Spotify to roll out a new Music Mode feature where users will listen to a 30-second looped preview of a possible match's selected song while checking out their profile. Users who connect their Spotify accounts and add a chosen song, called an "Anthem," to their Tinder profiles will be able to enter the Music Mode feature.
The New Music Mode Feature Will Build Natural Connections Between Music and People 
The Music Mode feature will be launching to Tinder users worldwide, in all markets where Spotify is open, in the coming weeks. The latest feature will be found on Tinder's interactive "Explore" page. Tinder notes that the new feature builds on the natural connections between music and human connections by letting users connect through their preferences in music.
"Now with the Music Mode feature, our members can experience that feeling when you're at a party and you find out someone else loves the same songs you do," said Kyle Miller, the vice president of product innovation at Tinder, in a press release. "Songs are deeply personal, and Music Mode is a place to spark something new through music."
The Anthems Have Brought 10% Increase in Matches 
The corporation says about 40% of Gen Z Tinder users have already added Anthems to their profiles and when they do, they see almost a 10% growth in matches. This latest rollout comes as Tinder has been rolling out new features to let users engage with others in new forms. 
It further enables users to swoop into quick discussions with others before a match is created. In addition to the Music Mode feature, the company also recently established a new "Plus One" feature. Through the feature, users are able to signal that they are either looking for a date to a marriage or are willing to be one. Last month, Tinder also brought back "Swipe Night," its interactive in-app event that lets its users another way to break the ice besides just matching and talking, this time featuring a "whodunit" murder mystery. 
Read more: A rundown of Pakistanis' Preferences on Spotify in 2021
Source: TechCrunch