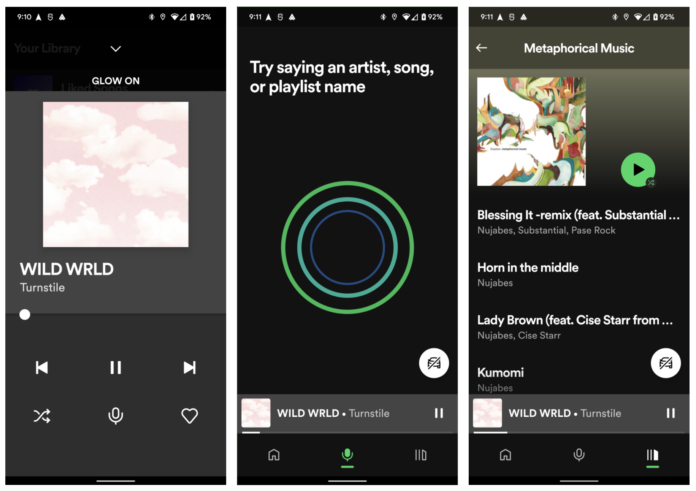 Spotify has started testing a new Car Mode with few of its users as it retires the old simplified automotive interface – Car View – which displayed playback controls and current track when driving. The company said that it needed to pave the way for innovations. A Spotify moderator said; "We can confirm that we're retiring the car view feature. This however doesn't mean we don't want to improve on how our users listen to Spotify while driving."
Spotify's voice-focused Car Mode
The new car mode will let you use voice controls to search for artists, browse albums, play or pause, fast forward and like a song. Unlike the older design, the new Car Mode doesn't hide the home view or search tab. A Spotify representative said; "We're actively exploring a variety of new ways to deliver the best in-car listening experience. Think of retiring car-view as something that needs to happen to make way for innovations coming down the track."
Car Mode keeps Spotify's three-button navigation bar but replaces the search button with a microphone, users can tap the microphone to summon a voice control system to search for artists, songs, or playlists using speech. The new car mode seems like a vast upgrade of Car view: a feature launched by Spotify in 2019 that switches to a simplified player interface when it detects your phone is connected to your vehicle over Bluetooth.
Spotify's first hardware device
Spotify has continued to offer a seamless experience to its users to achieve that the music streaming giant has also launched a hardware device for its premium subscribers called, 'Car Thing' it is a device made for those vehicle owners who don't have a built-in infotainment system offering easy access to Spotify. The device connects with the Spotify mobile app on users' phones and then uses the phone's cellular signal or Wi-Fi to stream the music or podcasts over the car's sound system, it works with USB, Bluetooth and Aux.
Read more: Tinder Partners With Spotify to Roll Out a New 'Music Mode' Feature
Source: 9to5Google