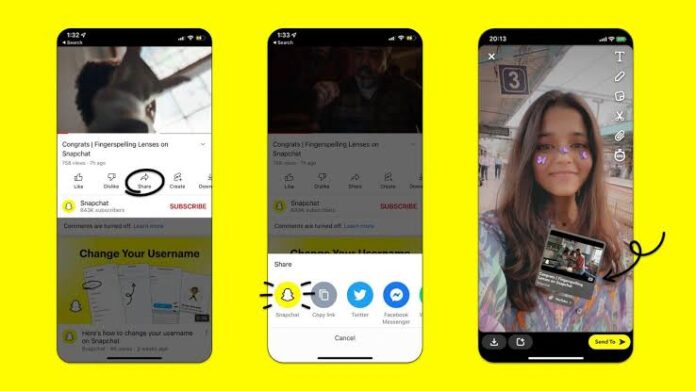 Snapchat announced that it is adding a YouTube integration feature to its creative kit. The new YouTube integration feature will allow users to directly attach YouTube videos to their snaps. Snapchat said that it wants to make it easier for YouTube users to share their favourite clips and videos directly to Snapchat without leaving the YouTube app.
Increase in viewership
The YouTube integration feature is certainly a welcome addition to the Snapchat application as it will allow it certainly might increase viewership on both platforms. Just last month, Snapchat launched a similar feature that enables users to share tracks from YouTube music directly via Snapchat, on their stories. Likewise, Snapchat introduced a stricker for tweets, in 2020, which allows users to add a tweet sticker to their Snap stories instead of taking a screenshot before posting.
As explained by the company, this is the first time that YouTube links can be shared on Snapchat with a visual experience. Along with the customized YouTube sticker, users can even shoot a video, take a photo, or use creative tools when sharing a clip from YouTube. By tapping the sticker, the video will open directly in the YouTube app or the user's default browser.
Read more: Snapchat Brings AR Experience to Local Landmarks
How to use the YouTube integration feature?
You can now share YouTube videos on Snapchat in these few simple steps:
Step 1: Open the YouTube app on your phone, choose the video you want to share
Step 2: Scroll down the video, click on Share and select the Snapchat icon
Step 3: Snapchat camera interface opens with the YouTube video as a sticker
Step 4: Add effects and filters to the shared YouTube video, as you like
Step 5: After editing the video tap on the camera button
Step 6: Video is shared as a Snap on Snapchat
Step 7: Story viewers can click the YouTube sticker to watch the video in their YouTube app or default mobile browser
Source: Verge