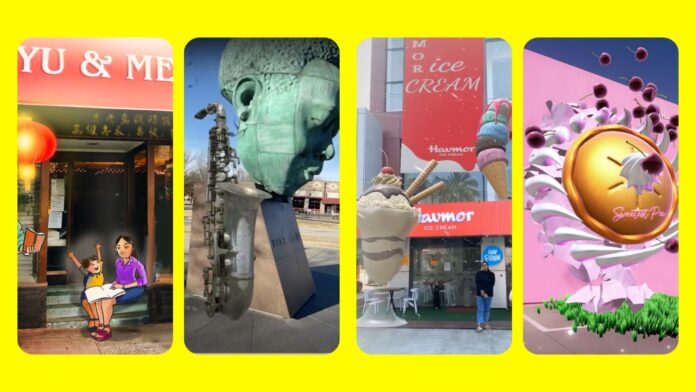 Snapchat has launched a new feature called Custom Landmarkers that will let users build 3D models of physical locations and design AR creations for those structures. The company previously let artists design AR lenses for a limited number of iconic structures, such as the Eiffel Tower and the U.S. Capitol Building.
Custom Landmarkers is a unique user-created experience
Custom Landmarkers enable creators to build location-specific AR experiences, building upon existing, real-world infrastructure. Snapchatters who are part of Snapchat's Lens Network have already received access to this feature to continue producing these AR experiences within their communities so they can share with their audiences. Snap says that the Custom Landmarkers will be discoverable through physical Snapcodes at the landmark, or on a Lens Creator's profile.
Snap already allows third-party creators to build AR experiences – called lenses – for the app through its Lens Studio software. However, Snap is now giving creators the tools to map locations themselves and upload the data to Lens Studio to design immersive experiences linked to those places. Theoretically, a user could build an AR creation that teaches the history of a local landmark, or a business could pay a developer to turn a bakery into a gingerbread house and display a code allowing customers to redeem a discount.
Leading the AR development
Snap is reportedly developing its own AR-Enabled Spectacles that will provide a wholesome experience when combined with the new landmark feature. In order to boost your AR knowledge, Snapchat has also launched its First Snap Focus AR Certification, which is a five-part learning pathway that offers hands-on education and real-life examples to help you gain a deeper understanding of how AR is an essential tool for your business and marketing objectives.
Read more: Xiaomi Launches its own Smartglasses Concept Device
Source: Tech Crunch