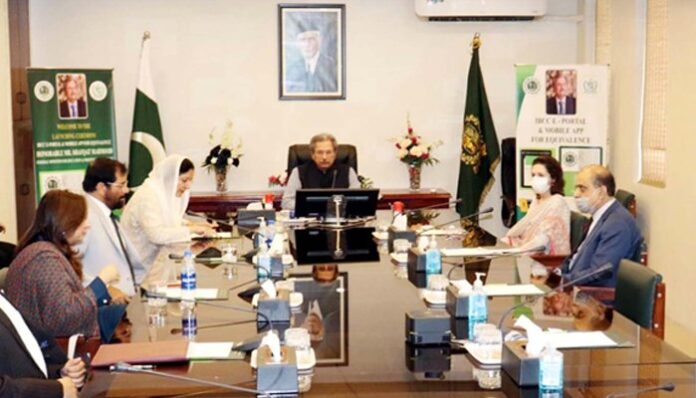 Federal Education Minister Shafqat Mahmood on Tuesday rolled out an e-portal and smartphone application of the Inter Board Committee of Chairmen (IBCC) for the issuance of equivalence certificates. Dr. Ghulam Ali Mallah, the IBCC Secretary informed the minister about the utility and the benefits of the application.
Moreover, while addressing the audience on the occasion, the minister stated that the IBCC has executed this task on the directives of Prime Minister Imran Khan by proposing transparency, ease of conducting business, and client facilitation. 
Read more: AGP launches Audit Management System to digitize audit operations
He further stated that according to the vision of the Prime Minister, the launch of such an application was not only an innovative step but also a signature project of the Ministry of Education which aims to reduce the difficulties of the public and enhance their accessibility to the IBCC. 
وزیراعظم پاکستان @ImranKhanPTI کے وژن کے مطابق وزارت تعلیم کا ایک اور اہم قدم ۔طلباء کی سہولت کے لیے Equivalence# کا سارا عمل آن لائن کر دیا گیاوفاقی وزیر تعلیم @Shafqat_Mahmood کا ای پورٹل اور موبائل ایپلیکیشن کے افتتاح کے موقع پر خطاب۔ وفاقی وزیر نے @Ibcc_official کو سراہا pic.twitter.com/xg5cHJKRFf

— Ministry of Federal Education/ProfessionalTraining (@EduMinistryPK) July 6, 2021
In addition, for the comfort of the applicants, a courier service has been incorporated in the portal so that the applicants could monitor their requests in real-time. The Minister also said that the Pakistanis residing abroad were assets and the mobile application such as this would be of great help to them. 
"This application does not only enable the applicants to apply online for equivalence certificates but also allows them to deposit their fee online from the IBCC mobile app through OTC, Digital Wallet payments from any financial institution through credit and debit cards (local and international) as the IBCC has integrated digital payment solutions in the application," said a press release.
While speaking on the occasion, the IBCC secretary stated that after the inauguration of the application there was no need to submit original certificates for the request of equivalence certificates. The applicants can apply for the certificates by submitting photocopies of original certificates through this e-portal and the smartphone app. 
Source: Pro Pakistani