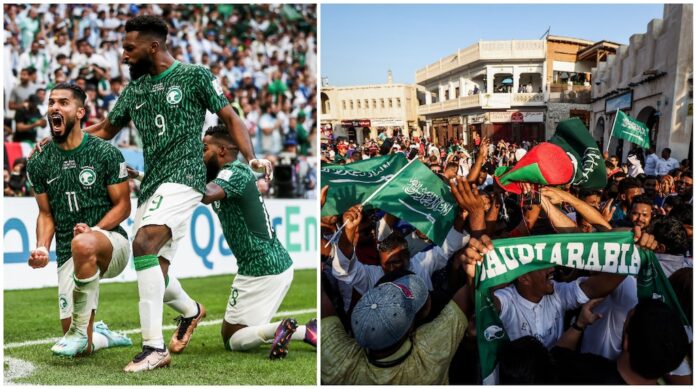 The Kingdom of Saudi Arabia has declared a public holiday on 23rd November, Wednesday to celebrate the Green Falcons' 2-1 victory over one of the top-ranked teams in football, Argentina. The jubilant Saudi football fans celebrating at night can rest easy with a lie-in the next day.
Saudi Arabia Declared Public Holiday Across Every Sector
King Salman has announced a public holiday for all public and private employees as well as students of all schools, colleges, and universities. The announcement follows a similar course by Cameroon during the 1990 World Cup in Italy when the African team beat Argentina, and the government of Cameroon declared a public holiday to celebrate the unimaginable victory, which is still referred to as one of the biggest upsets in football history.
Saudi Arabia, the second-lowest ranked team in the tournament after Ghana, had previously won only three World Cup matches in its history before pulling off the huge upset last night, with second-half goals from Saleh al-Shehri and Salem al-DawsarI. Saudi fan Abdelaziz al-Khwatem said. "They were relying on one player, we competed as a team, and we wiped them; we are up to it. Watch out for Saudi Arabia because when it hits, it hurts." The Argentinian football magazine, Olé termed the defeat "a worldwide whammy."
PM Shehbaz Congratulated Saudia Arabia On a Massive Win
The PM of Pakistan, Shehbaz Sharif, has sent his warmest regards to one of their close allies, Saudia Arabia, on a thrilling victory over Argentina. PM Shehbaz tweeted, "Saudi Arabia made history today by staging the biggest upset in the FIFA World Cup thriller against Argentina. Heartiest congratulations to HRH Crown Prince Mohammed Bin Salman. We share the happiness of our Saudi brothers & sisters on this great win."
What a game of football it was! Saudi Arabia made history today by staging the biggest upset in FIFA World Cup thriller against Argentina. Heartiest congratulations to HRH Crown Prince Mohammed Bin Salman. We share the happiness of our Saudi brothers & sisters on this great win.

— Shehbaz Sharif (@CMShehbaz) November 22, 2022
Also read: FIFA World Cup 2022: How to Livestream Every Match of the Global Tournament