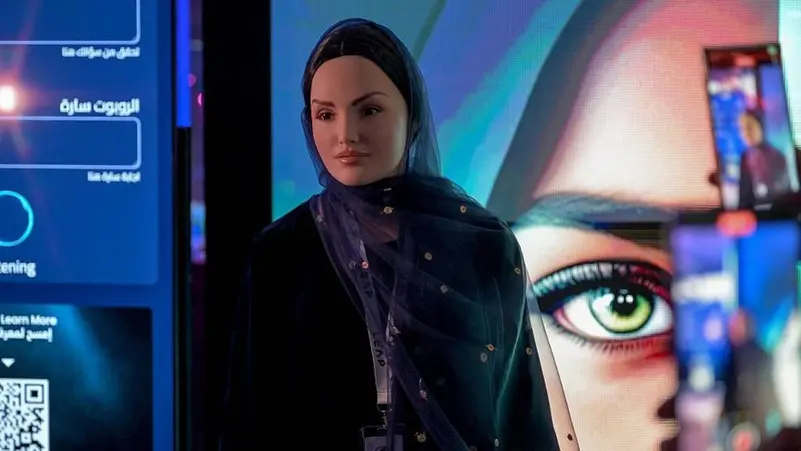 Saudi Arabia has introduced its first-ever AI-powered Robot that can communicate in the local dialect, perform popular dances, and respond to inquiries. According to the state news channel, the robot named Sara has been welcoming visitors to the Kingdom's Digital Pavilion at the LEAP23 conference in Riyadh; the second edition of the major technology conference has representatives from companies including Snap, Aramco, and Zoom.
AI-powered Robot Greets Visitors Using Built-in Camera
Sara is a pre-trained model that recognizes different dialects from within the Kingdom; it also has a built-in camera that uses AI-technology to recognize people standing in front and starting a conversation with them in the local dialect beginning with the phrase, 'Hello Sara.'
Sara recognizes different dialects spoken within the Kingdom, it analyses sentences and understands their content, then provides the appropriate answer and sends it in the form of text. The event from last year racked in $6.4 billion worth of investments into technology in the Kingdom of Saudi Arabia, which is striving to modernize its economy. LEAP is expected to be attended by more than 100,000 people which is organized by the Kingdom's Ministry of Communications and Information Technology (MCIT)
Saudi Arabia Granted Citizenship to Robot
Saudia Arab becomes the first country to have granted citizenship to a robot. In 2015, Sophia was built by a Hong Kong-based company called Hanson Robotics. Its inventor David Hanson claims that the robot is filled with artificial intelligence and can recognize faces. "Porcelain skin, a slender nose, high cheekbones, an intriguing smile and deeply expressive eyes," read the details.
Also read: Chess Robot Breaks Finger of Seven-Year-Old Boy During Moscow Open