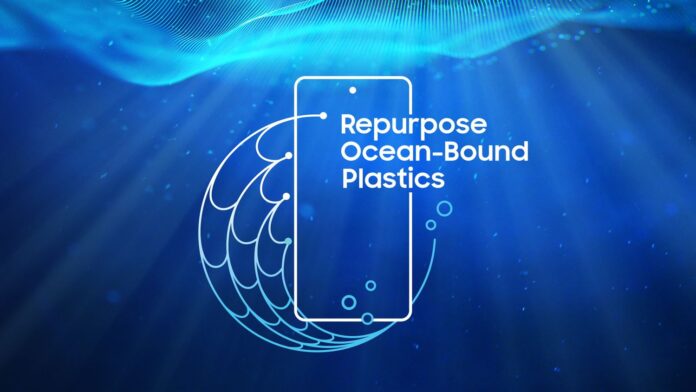 In the recent news, Samsung has announced that it has created a new material utilizing dumped ocean-bound fishing nets. The company will be utilizing the recycled fishing nets material in its future devices, starting with the Galaxy S22 series due to launch later this week. However, Samsung does not describe how or which plastics it would replace on its devices with this new material. 
Samsung is to Use Recycled Fishing Nets in the Upcoming Galaxy S22 Series
Nonetheless, using recycled fishing nets will mark another step in the firm's move to eradicate single-use plastics in its products. Back in 2019, the Korean smartphone manufacturer had pledged to move to more environmentally tolerable packaging for its products like recycled and bioplastic materials. Mentioning a report from the Food and Agriculture Organization of the United Nations, Samsung emphasizes in its announcement that up to 640,000 tons of fishing nets are dumped every year, destroying marine life and damaging coral reefs and other habitats. 
Read more: Samsung is Now Working on a Dual Folding Phone With an S-Pen Holder
The company describes, "now and into the future, Samsung will incorporate repurposed ocean-bound plastics throughout our entire product lineup, starting with our new Galaxy devices that will be revealed on February 9th at Unpacked. These devices will reflect our ongoing effort to eliminate single-use plastics and expand the use of other eco-conscious materials, such as recycled post-consumer material (PCM) and recycled paper. With this transformation, the future of Galaxy technology will bring leading product design and deliver better environmental impact."
It is a Vital Step to Keep Our Oceans Clean and Preserve Our Planet
Samsung is gathering and repurposing these fishing nets dumped within 50km of shorelines for usage in Galaxy devices, lowering their environmental impact and helping clean the ocean. It states that using recycled fishing nets will be the "vital first steps in keeping our oceans clean as well as preserving the planet and our collective future." 
Considering Samsung's scale and size and the sheer number of products it markets, the move of using recycled fishing nets should have a favorable effect on the environment in the long term. It is expected that the company will talk more about the new material later this week at the Galaxy Unpacked event launching the Galaxy S22 series.
Source: The Verge