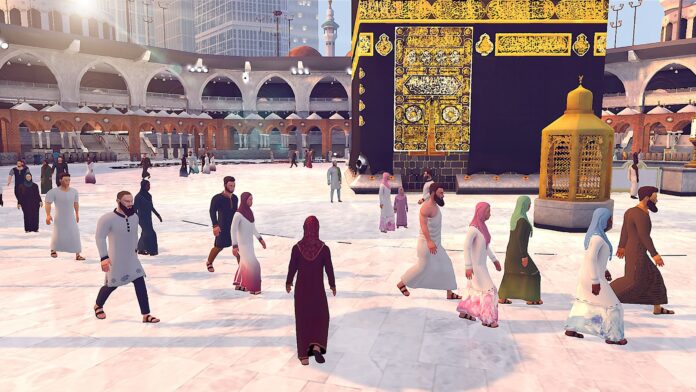 In the recent news, the Turkish Presidency of Religious Affairs (Diyanet) has stated that visiting the Ka'aba can be performed on the metaverse, but performing Hajj on metaverse will not be regarded as a real hajj. The controversy started when Saudi Arabia brought Islam's most sacred site into the metaverse age with a new initiative in December 2021 that enables Muslims to visit the virtual Holy Ka'aba from the comfort of their houses.
Performing Hajj on Metaverse is Not a Real Act of Worship 
The metaverse event is called "Virtual Black Stone Initiative" in which users can virtually visit the Hajr Aswad, or Black Stone, which is laid into one corner of the Ka'aba, located in Mecca's Great Mosque. "The initiative allows Muslims to experience the Hajr Aswad virtually before the pilgrimage to Mecca," the Saudi officials said in a statement while publicizing the initiative.
Read more: Keanu Reeves Does Not Want the Metaverse to be Invented by Facebook
However, the initiative of virtual Holy Ka'aba provoked controversy among some Muslims across the globe questioning on social media whether "performing hajj on the metaverse" could be deemed a "real worship." Among them were Muslims in Turkey asking Diyanet the same question. The director of Diyanet's Department of Hajj and Umrah Services, Remzi Bircan, was completely against the notion of performing Hajj on metaverse.
"Believers can pay a visit to Ka'aba on the metaverse, but it will never be considered a real worship," he said and added: "People's feet should touch the ground." According to Bircan, hajj should and will be completed by going to the holy city in real life. He stated that the Saudi initiative of virtual Holy Ka'aba was probably established "for promotion." Giving an instance of the Archeological Museum in Istanbul, Bircan stated, "Like touring the museum with [Virtual Reality] VR glasses, Saudis started this virtual travel program to promote the Ka'aba." 
The Virtual Black Stone Initiative is Only an Informative Initiative 
Furthermore, rather than religious, the event is completely an "informative initiative." The project was recognized by Saudi Arabia's Exhibitions and Museums Affairs Agency, working with Umm al-Qura University. The mastermind of the project is the Haramain, which can be translated as "the two sanctuaries," referring to Mecca and Medina and particularly the two holy mosques in those cities.
Source: Hurriyet Daily News