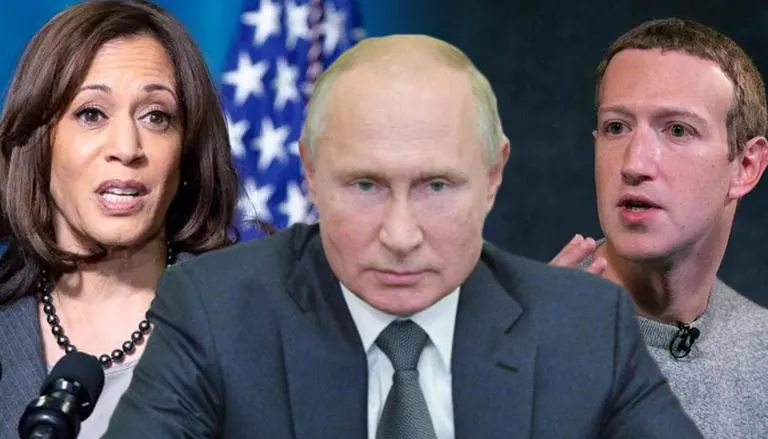 Russia has slapped a travel ban on U.S. officials that includes  U.S. Vice President Kamala Harris, Meta's CEO Mark Zuckerberg, and 27 other prominent Americans. The Russian sanctions on American officials were imposed over their alleged roles in pushing a 'Russophobic agenda.'
Russian sanctions on American officials came as a response to the ever-widening anti-Russian sanctions
The Russian Foreign Ministry said in a statement that the Russian sanctions on American officials came as a response to the "ever-widening anti-Russian sanctions" imposed by the United States. The travel ban includes top Pentagon officials, US business leaders, and journalists, including Vice President Kamala Harris, Meta's CEO Mark Zuckerberg, LinkedIn CEO Ryan Roslansky, the ABC reporter George Stephanopoulos, CNN's Bianna Golodryga, and others. The sanctions are unlikely to have any significant effect on any of the people on the list other than stopping them from visiting Russia.
Stumbling upon the sanctions, Bianna Golodryga – who was born in the former Soviet Union – wrote; 'When my parents and I left the Soviet Union as refugees in 1980, we were told that our feet will never touch Soviet soil again. I guess the Kremlin waited more than four decades (and unprovoked war against a former member state) to make it this official?' The ministry said that the sanctions list would be updated shortly in response to the "hostile actions" of Western authorities.'
Surprising move
It is rather surprising that the Russian sanctions on American officials do not include top American businessmen: Twitter's CEO, Parag Agrawal, and Google's CEO, Sundar Pichai. Although both the companies have blocked the Russian state media – RT and Sputnik – content in the EU. Moreover, Google also suspended billing on its play store, and payment-based services for YouTube users in Russia.
Read more: Russia Blocks Facebook in Response to Recent Restrictions Imposed by Meta