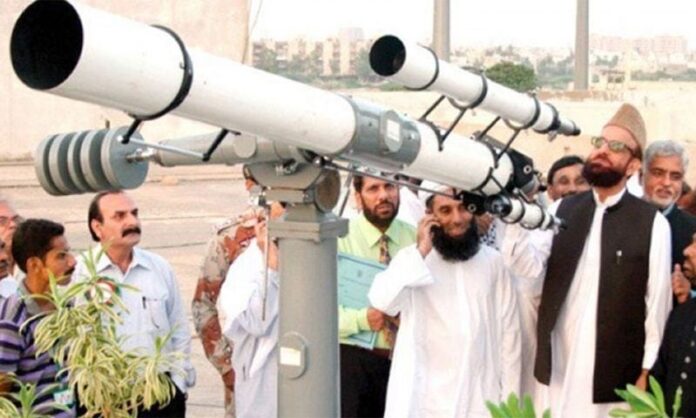 The National Assembly of Pakistan has approved a bill to regulate moon-sighting for the commencement of Islamic months. The bill, titled the Pakistan Ruet-e-Hilal Bill, 2022, was presented by State Minister for Law and Justice Shahadat Awan in the absence of the religious affairs minister. The bill intends to bring harmony among followers of different schools of thought within Islam and ensure unanimity in performing religious obligations throughout the country. The bill also imposes penalties on unofficial bodies engaging in moon-sighting activities.
Particulars of Ruet-e-Hilal Bill
According to the newly passed bill, a 15-member federal committee will be established as the Federal Ruet e Hilal Committee. The panel will comprise two ulemas from the four provinces and one each from Islamabad, Gilgit-Baltistan, and Azad Kashmir. It will also have representation from ministries of science and technology, religious affairs, and the Pakistan Space and Upper Atmosphere Research Commission (Suparco). Grade 20 officers will be a part of this body. The committee chairperson will be appointed on a rotational basis from the provinces and the federation and will be responsible for the decision on moon sighting.
The ulema included in the committee will be required to have a master's degree in Islamiat and 15 years of experience, besides a degree of Shahadatul Almiya approved by the HEC. The provincial Ruet e Hilal Committee will comprise 13 members, the Islamabad-based committee seven, while the district committees will consist of six members, in which scholars from all schools of thought will be included.
According to the bill, a master's degree in Islamiat with a 10-year experience in Sharia is mandatory for the members of Islamabad and provincial committees whereas the members of district committees will be required to have a master's degree in Islamiat with one year of experience in Sharia.
Penalties for False Moon Sighting
The bill includes strict penalties for those guilty of giving false evidence regarding moon sightings. Anyone providing false evidence will face imprisonment for a term of up to three years, a fine of up to Rs50,000, or both. In addition, electronic media broadcasting moon-sighting news before the official announcement will face penalties. The Pakistan Electronic Media Regulatory Authority (PEMRA) can impose fines up to Rs1 million or suspend their licenses.
The bill aims to ensure that moon sightings are accepted as per Shariah law and mandates that evidence of moon sightings must be sent to the central committee through the provincial committees. By centralizing the process and imposing penalties for false moon sightings, the government hopes to streamline the commencement of Islamic months and create unity among different schools of thought within Islam.
Also read: Fawad Chaudhry reiterates the importance of technology in the moon sighting process