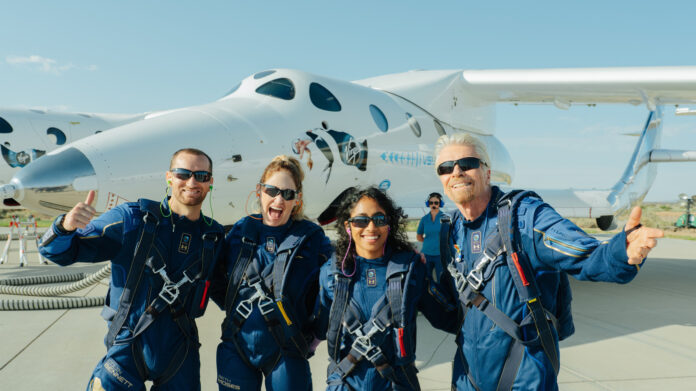 The UK entrepreneur, Richard Branson has successfully flown to the edge of space onboard his Virgin Galactic rocket plane. The billionaire touched the high altitudes of New Mexico in the US in the vehicle that his firm has been working on for the past 17 years. Branson described his trip as the "experience of a lifetime".
Richard Branson is one of the six Virgin Galactic Holding Inc employees strapped in for the ride, he has promoted the mission as a precursor to a new age of space tourism, with the organization he established in 2004 poised to launch commercial services next year. He returned safely to Earth just over an hour after leaving the ground.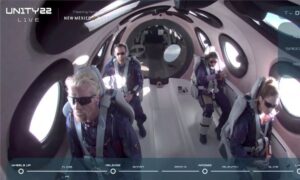 Read more: Richard Branson aims to beat Jeff Bezos into the space race by nine days
"I have dreamt of this moment since I was a kid, but honestly nothing can prepare you for the view of Earth from space," he said in a press discussion after the flight. "The whole thing was just magical." The trip also makes him the first of the new space tourism pioneers to try out their own carriers, beating Amazon co-founder, Jeff Bezos and SpaceX's Elon Musk. 
I was once a child with a dream looking up to the stars. Now I'm an adult in a spaceship looking down to our beautiful Earth. To the next generation of dreamers: if we can do this, just imagine what you can do https://t.co/Wyzj0nOBgX #Unity22 @virgingalactic pic.twitter.com/03EJmKiH8V

— Richard Branson (@richardbranson) July 11, 2021
Branson was accompanied on the trip by the space carrier's two pilots, Dave Mackay and Michael Masucci, and three Galactic employees – Beth Moses, Colin Bennett, and Sirisha Bandla. The latter trio and Richard Branson were granted commercial astronaut wings after the flight by previous space station commander and Canadian astronaut, Chris Hadfield.
Read more: NCGSA invites space enthusiasts to participate in Pakistan's Space Film Festival
After this successful flight, Virgin Galactic plans two further flights, and then the launch of general commercial services from early 2022. The ultimate goal is to conduct 400 flights annually. Till now around 600 tickets have been sold to people from 60 different nations — including Hollywood stars — for prices varying from $200,000 to $250,000.
Branson wishes to expand that through the contest for free tickets, "so lots of people who couldn't otherwise have afforded to go to space, go to space." The competition in the space tourism division, whose impending emergence has been declared for years, has come to a head this month. Furthermore, Bezos, the wealthiest person in the world, is scheduled to travel to space nine days from now on Blue Origin's New Shepard rocket.
Image Source: TechCrunch