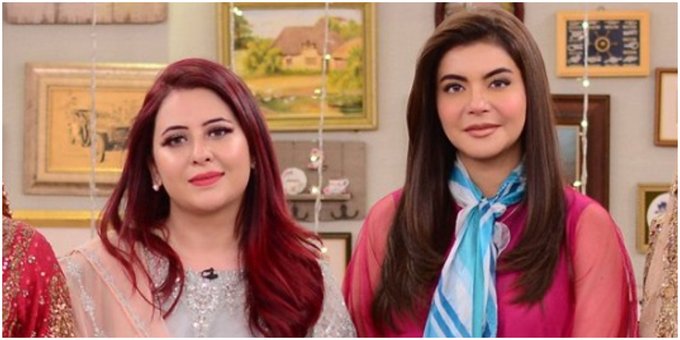 Anchorperson and beautician Rabia Anum has stirred a huge controversy as she walks out of Nida Yasir's famous morning show because of the guest – Moshin Abbas Haider – who has been accused of domestic violence and extramarital affair affair by his wife, Fatima. Her claims were backed by photos of her being beaten and bruised by her husband when she was pregnant and after their child was born.
View this post on Instagram
Rabia Anum took Stand for Domestic Violence Victims
According to the anchorperson, she was not told that she had been invited alongside Mohsin. When the show went on air and she came to know about the guest, she apologized to the hair of the show by saying; "I want to apologise beforehand to you, Nida, for what I am about to say." "There's an issue close to me, for which I have taken a very strong stance. When I came to your show today, I knew Fiza(the second guest) will be here but I wasn't informed of any other guests," she added.
Pakistani television personality @RabiaAnumm walks out of a live morning #Pakistan TV show after refusing to sit down with a male actor infamous for a recent high-profile domestic abuse case. https://t.co/aRnbnPUP2s

— Ahmed Quraishi (@_AhmedQuraishi) November 8, 2022
Rabia went on to explain that she has always taken a stand against domestic abuse. "I think if my smallest effort can save my daughter, my friend tomorrow, then I have to comply," she mentioned before leaving the show. While addressing the host of the show, Rabia said; "I know you(Nida Yasir) are an employee of the channel and you are very responsible. But if I sat through this show today, I won't be able to face my friends, my colleagues, or any victim tomorrow."
Also read: Nida Yasir Once Again Trolled on Social Media for 'Formula Car' Interview
Netizens Lauded the Gesture
Soon after the clips of the show went viral on social media, netizens started sending messages of love and support for Rabia Anum. Jibran Nasir said; "Massive respect for @RabiaAnumm for taking a consistent and bold stance," Chaudhry Fawad wrote: "Welldone ⁦@RabiaAnumm⁩ May you rise and rise principled stand is always tough," Sidra said; "This is what we need to see. Thank you miss @RabiaAnumm for standing against domestic abusers."
Massive respect for @RabiaAnumm for taking a consistent and bold stance against #DomesticViolence and wife beaters. Our TV screens are better off without them. https://t.co/l9FXmPDFZ6

— M. Jibran Nasir 🇵🇸 (@MJibranNasir) November 8, 2022
Welldone ⁦@RabiaAnumm⁩ May you rise and rise principled stand is always tough 👍👍#RabiaAnum https://t.co/Wuoq5nkK7w

— Ch Fawad Hussain (@fawadchaudhry) November 8, 2022
This is what we need to see. Thank you miss @RabiaAnumm for standing against domestic abusers. More power.#RabiaAnum https://t.co/P0z87181sp

— Sidra Abbas (@iamsidraabbas) November 8, 2022