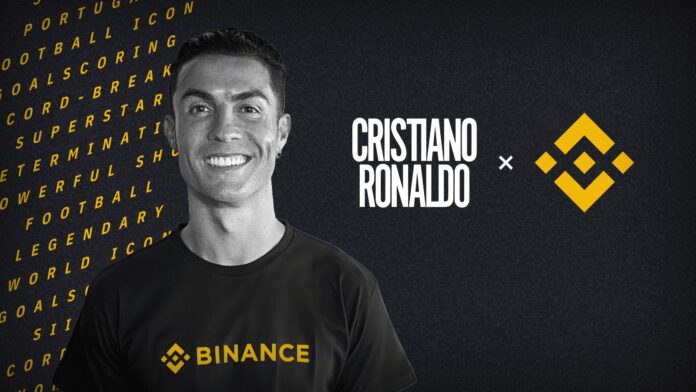 Football legend Cristiano Ronaldo and Binance have joined forces in a revolutionary multi-year partnership focused on nonfungible tokens (NFTs). As per details, Cristiano Ronaldo and Binance will create several collections that will only be available on the Binance NFT market. Binance, the largest crypto exchange in the world, aims to onboard billions of football fans to Web3 by collaborating with the Portuguese football star.
Cristiano Ronaldo and Binance Aims to Provide Amazing Experience to Fans
As per deal, Cristiano Ronaldo and Binance will produce several collections that can only be purchased on the Binance NFT exchange. Later this year, the first collection will go on sale and contain pieces made in association with Ronaldo. Changing Zhao, the C.E.O. and founder of Binance, acknowledged Cristiano's soccer successes and said that he has cultivated one of the most devoted fan bases worldwide through his sincerity, charitable and talent endeavors.
Ronaldo says that NFTs are a new field he is venturing into now and in the future. He has expressed his readiness to participate in an NFT platform that provides unmatched experiences and access. Ronaldo said he is sure his followers will like the collection just as much as he does. The partnership is expected to bring a boost to the cryptocurrency market, where Ronaldo is precisely positioned to influence others by promoting the benefits of cryptocurrencies.
The CR7 NFT Collection
Earlier in November, some of Cristiano Ronaldo's most iconic moments were released as NFTs on Binance that got sold out in no time. The collection featured seven animated statues with four varying rarity levels: Super Super Rare (SSR), Super Rare (SR), Rare (R), and Normal (N). Each NFT statue depicts an iconic moment from Ronaldo's life, from the electrifying bicycle kicks to his humble beginnings as a young boy in Portugal.
Also read: NFTs can preserve the exclusiveness and rarity of assets