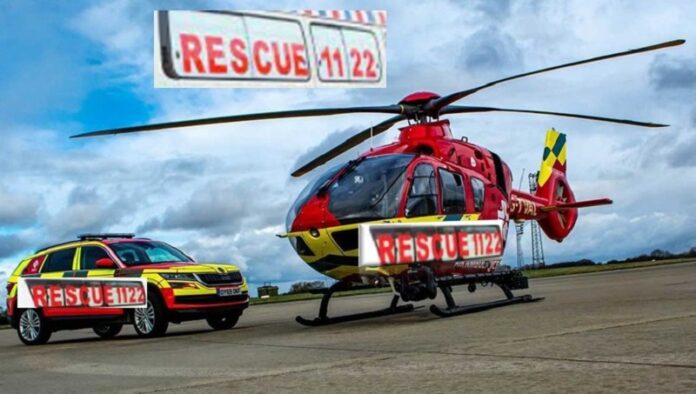 Director-General Rescue 1122 Dr. Rizwan Naseer told PTV news that the Punjab Government has decided to launch an air ambulance service in the high-risk areas of the province, making Punjab the first province in the country to provide such rescue services. The Punjab Government Air-Ambulance service would extend the scope of rescue to remote areas as well. The chief minister, Usman Buzdar, ordered for finalizing all matters for launching the service at the earliest.
Punjab Government Air-Ambulance service will  improve the rescue services
Talking to a state-owned TV channel, PTV, The Director General (DG) Rescue 1122 said that the Punjab government is taking all possible steps to further improve the rescue services. He said that Emergency Service is responding to over 1000 road traffic accidents in all districts on daily basis.
The Rescue 1122 Air-Ambulance service will improve the rescue services within the province. The air ambulance will facilitate the rescue operations in remote or high-risk areas where an on-wheel ambulance is difficult to reach due to infrastructure or weather conditions. CM Buzdar has attributed the air ambulance as a prime need of the time. He said that every human life is precious and timely treatment is the right of every individual. The Government of Punjab has taken revolutionary steps to improve the rescue services in Punjab which is acknowledged at the international level as well.
Read more: German Firms intend to Invest in Punjab due to the Investment-Friendly Business Environment
The shortfall of Rescue 1122
Earlier this month, an acute shortage of ambulances was reported in Punjab. In response to which, over 250 new ambulances were provided to 1122 department in the emergency services. The population of Punjab is around 110 million and only 4,719 private and government vehicles are currently registered as ambulances in the department's records.
The gap is filled by private vehicles being used as ambulances that charge exorbitant fares for transporting patients and bodies, that too without any formal training in first-aid or emergency medical care.
Source: Pro Pakistani