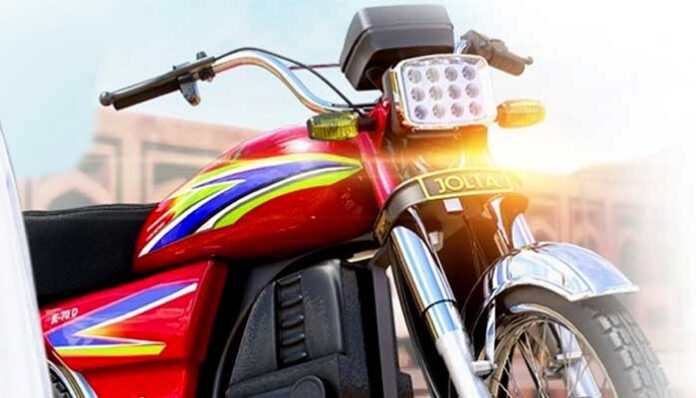 Prime Minister Imran Khan launched the country's first locally manufactured electric motorbike (e-bike) on Thursday as part of the government's electric vehicles policy.
The striking features of the EV policy include a phased shift of the automobile industry, as it would be incorporating two and three-wheelers and heavy commercial vehicles providing incentives to the manufacturers.
E-bike specifications:
Manufactured by a Pakistani company, Jolta Electric, the e-bike will be available in various models, that is energy-efficient and can be charged overnight with other characteristics such as no clutch and gear and also low maintenance.
Dr. Amjad, Director of Jolta Electric, said, the company would manufacture five variants of the Jolta e-bikes varying from JE-Scooty to JE-Sports Bike, having various speed specifications from 10 to 60 kilometers per hour. He added that 100% indigenous electric bikes would help save the purchaser Rs 4,000 per month due to the economical fuel mode.
Addressing the launch ceremony from the Prime Minister House, Prime Minister Imran said that the government was working on an eco-friendly work plan for the country to protect future generations from the adverse effects of climate change and global warming.
Talking about environmental pollution, the Prime Minister said "When you decide to keep your air, water, and cities clean, you have to take initiatives like the 10 Billion Tsunami program." He regretted that Pakistan was one of the few countries with insignificant tree cover.
Read more: PM to Meet Tesla Officials for Electric Vehicles Launch across Pakistan
The Prime Minister said the government's electric vehicle policy would be export-orientated and promote economic growth by using local raw materials in order to manufacture authentic products.
He said that Africa, Central Asia, and Afghanistan would be the areas of interest for Pakistan to export its products in line with its auto-development and export policy. He added that an administrative structure would be drafted to regulate the area of electric automobiles and the associated charging infrastructure.
It is for the first time that policies adopted by Pakistan to improve the environment are being acknowledged internationally. Netizens have lauded Imran khan's concern towards the environment and all the necessary measures been taken to conserve environmental pollution.
Source: Geo Tv