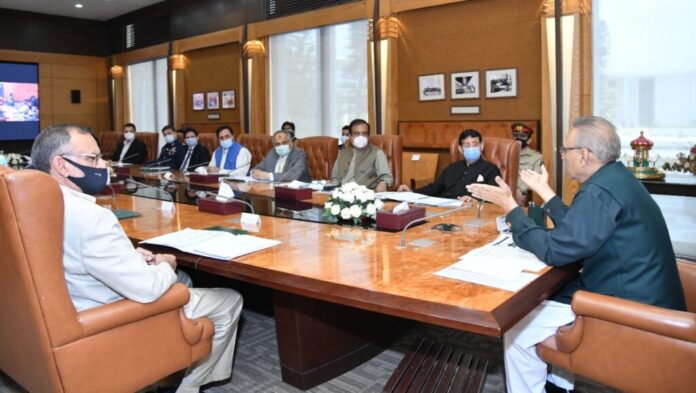 On Thursday, President Dr. Arif Alvi urged the Ministry of Science of Technology and other related organizations to hasten the procedure of developing Electronic Voting Machines (EVMs) with high-level security peculiarities to guarantee clarity in the electoral process.
He further stressed the necessity for introducing an e-voting system in the nation which, he stated, would not only facilitate Pakistanis residing abroad but would also enhance the effectiveness and several other aspects of the electoral process. The President addressed this notion while chairing a conference of sub-committee on Emerging Technologies on e-voting at Aiwan-e-Sadr.
Read more: Pakistan is all set to launch the new e-voting machine to ensure transparency
Moreover, the meeting was attended by the Federal Minister for IT and Telecommunication (IT&T) Syed Amin ul Haque, Minister for Railways Senator Muhammad Azam Khan Swati, Minister for Science and Technology (S&T) Senator Shibli Faraz, IT&T Secretary Shoaib Ahmed Siddiqui, National Database & Registration Authority (NADRA) Acting Chairman Brig (r) Khalid Latif, Election Commission of Pakistan (ECP) IT Director General (DG) Khizer Aziz, along with other senior officials of the government.
Read more: Amin Ul Haque announces E-voting system to be introduced by next general elections
Furthermore, the Federal Minister for Science and Technology Senator, Shibli Faraz spoke in the meeting about the steps taken by his ministry concerning the production of EVMs. He also notified that COMSATS, the National Institute of Engineering (NIE), and the National Radio and Telecommunication Corporation (NRTC) were collectively working to design a prototype of EVM which would be available shortly.
In addition to it, the President also emphasized that the device needs to incorporate advanced features such as fool-proof, user-friendly, and exhibits transparent results to guarantee the credibility of the complete electoral process. The conference agreed that NADRA would facilitate e-voting under the umbrella of ECP. Moreover, the conference also agreed to hold meetings on weekly basis to evaluate the development of e-voting and EVMs.
Source: Pakistan Today