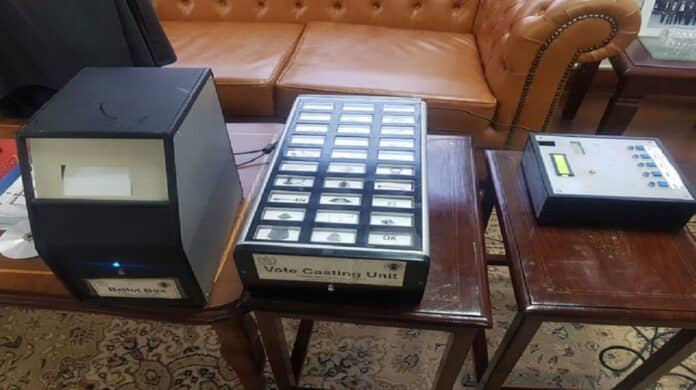 The Federal Minister for Science and Technology, Chaudhry Fawad Hussain, revealed the development of e-voting machines within the country.
The idea behind designing this machine is to make sure of transparency during the elections and that no mishap takes place.
The National Institute of Electronics (NIE), which is controlled by the administration of the Ministry of Science and Technology, has designed this machine collaborating with the students of the National University of Science and Technology (NUST) COMSATS University Islamabad (CUI).
Read More: Amin Ul Haque announces E-voting system to be introduced by next general elections
The e-voting machine was sent for the trial to the National Institute of Electronics (NIE), under the supervision of the Science Minister. The trial turned out to be successful. The Minister categorized the e-voting machine into two parts after the observation. He noticed that the machine consist of two parts, the first consists of election symbols, and the second will be under the authority of the presiding officer who will switch the machine on for the voter to cast their vote.
It will completely depend upon the user to choose the symbol of their favorite party from the polling booth.
The machine is also able to print ballot papers in addition to functioning as an e-voting device.
The concept behind developing the new electronic voting machine also included Prime Minister Imran Khan's vision of organizing free and fair elections.
The machine is said to be in the developing stage and will soon be launched for official use.
Image Source: Propakistani 
You may also like: Pakistan to introduce an e-voting system for more transparent elections