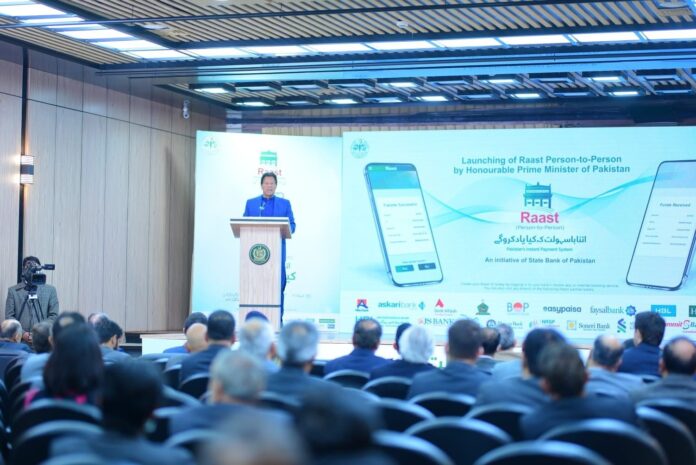 Prime Minister Imran Khan launched the country's first person-to-person instant payment system named, "Raast", to facilitate the common man and help improve the saving rates. Raast is the State Bank of Pakistan's (SBP) initiative aimed at introducing free-of-cost instant digital payments.
Read more: SBP Introduces Free Person-to-person Transfers via Raast
Raast – Person-to-person digital payment system
While addressing the inauguration system, the PM said that the new system, developed by the State Bank of Pakistan, will facilitate the common man to do their transactions through cell phones, besides it will also help improve the saving rates. He further added that technology is the way through which we can enhance our saving rates as well as the tax to GDP ratio to take the country forward.
Appreciating the efforts of the SBP to facilitate people over the banking system, he said a common man often hesitated in visiting banks because of the trend that the banking sector prefers serving only those wearing suits. He went on to say that the most concerns are received from overseas Pakistanis who complain of inconvenience in sending money to Pakistan. The premier directed the Governor SBP to establish a special cell to further facilitate overseas Pakistanis as overseas Pakistanis are the country's biggest asset.
More on country's first digital payment system
To avail Raast, customers should check SBP's Raast landing page to check if their banks are offering the services—currently, more than 18 banks, processing the majority of retail payment transactions, are offering Raast services —and register one time for Raast in their bank's mobile app, through internet banking or by visiting a bank branch. The remaining banks are expected to be onboarded with the newly launched P2P digital payment services in the coming weeks. SBP has directed all banks to make the Raast service available on at least three customer channels including mobile applications, internet banking, and branch counters. It has also directed banks to ensure that funds successfully transferred through Raast should be credited into the recipients' accounts within 20 seconds of receiving the credit advice from the system.
Source: Express Tribune