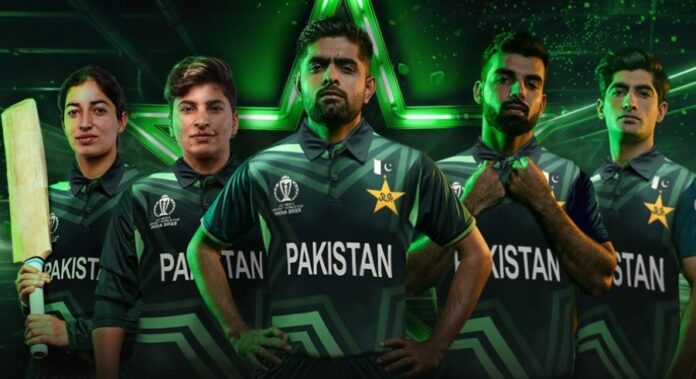 With anticipation building up for the ICC World Cup, the Pakistan Cricket Board (PCB) has unveiled Pakistan's World Cup kit in a much-awaited ceremony. The 'Star Nation Jersey' was introduced by Zaka Ashraf, Chairman of the PCB Management Committee, and COO Salman Naseer in Lahore. The kit design emulates Pakistan's spirit and determination as they strive to excel in the upcoming cricket extravaganza.
The 'Star Nation Jersey' and its Symbolism
The newly revealed 'Star Nation Jersey' captures the essence of Pakistan's identity, featuring a prominent star and the country's flag on the chest. This design mirrors the aspirations and dedication of the national cricket team. Zaka Ashraf, speaking at the unveiling event, emphasized how the star and flag serve as powerful symbols of Pakistan's resolute spirit. He expressed confidence that the team, already holding the top spot in the ODI rankings, will go on to claim victory in the World Cup hosted by India.
Pakistan's World Cup Schedule
Pakistan's journey in the ICC World Cup 2023 is set to commence on October 6 in Hyderabad, with a match against the Netherlands. The team's challenging schedule includes matches against formidable opponents like Sri Lanka, arch-rivals India, Australia, Afghanistan, South Africa, Bangladesh, New Zealand, and England. The team's matches will be played in both day and day-night formats, adding an extra layer of dynamism to their campaign. If Pakistan qualifies for the semi-finals, they will compete in Kolkata, a significant milestone in the quest for the coveted World Cup title.
The Cricket World Cup tournament follows a round-robin format, ensuring each team faces off against the others in a total of 45 league matches. The top four teams will then progress to the semi-finals, which are scheduled for November 15 in Mumbai and November 16 in Kolkata. Notably, reserve days are in place for both the semi-finals and the final, reflecting the tournament's significance and the desire to ensure optimal playing conditions.
Also read: High-level BCCI Delegation Set to Grace Asia Cup in Pakistan