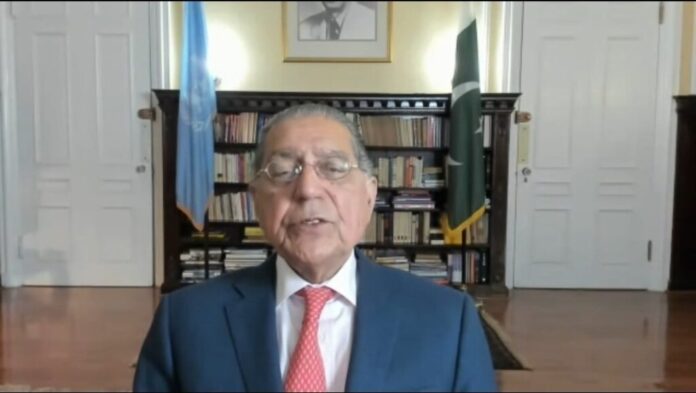 At a high-level discussion based on the 'Digital Cooperation and Connectivity' hosted in the UN General Assembly Hall, the President of the UN Economic and Social Council (ECOSOC), Pakistan's Ambassador at UN Munir Akram stressed the necessity for the political commitment to address the "digital divide", the gap among the under-connected and highly digitalized nations, to support the developing world unbar opportunities for accelerated all-round advancement.
The Ambassador opined that while the COVID-19 pandemic has unveiled the world's dependency on computers, global collaboration is necessary to optimize the possibilities offered by digitalization and the associated frontier technologies. 
Read more: Infinity Studio signs agreement for NIFT ePay to facilitate digital payments for "Skoolify App"
"Among these opportunities were higher productivity in all sectors, agriculture, manufacturing, services, finance, trade and communication, job creation, the fastest employment growth is now in work related to the ICT sector, and expanding digitalization," Ambassador Akram further stated. 
The path to success is the political resolution of the governments to spend on the necessary hardware and software, to encourage participation in developing frontier technologies. For instance, G five, robotics, artificial intelligence, and the cables and broadband required for connection. He further advised against the web's negative side such as its use in generating terrorism or cyber hostilities, victimizing minorities in unsafe groups, advertising misinformation, and inducing conflicts.
Read more: State Bank of Pakistan considers launching its own Digital Currency
In this regard, Munir Akram said that they need to strengthen the digital tools to recognize such malicious activities and to defend themselves against them and neutralize them. The United Nations and its operative agencies and entities, including ECOSOC, occupy the legitimacy and the convening authority to support and assist as the venue for global partnership and efficient governance of the digital ecosystem.
Moreover, it is self-evident that these aims to optimize the possibilities granted by digitalization cannot be accomplished without including global collaboration amongst all stakeholders, as stated by the President of the ECOSOC. As, seventy percent of the Information and communications technology (ICT) infrastructure is owned by private corporations established in two countries, and they handle most of the data produced by internet usage.
Source: TechJuice