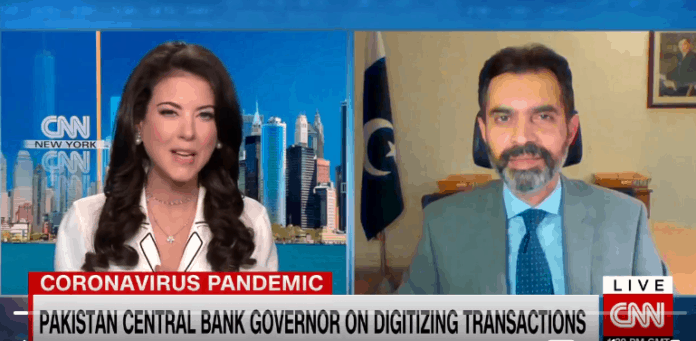 State Bank of Pakistan (SBP) is now exploring its own digital currency, as mentioned by the Governor of Pakistan's State Bank Reza Baqir in an interview with CNN's Julia Chatterley on Thursday days after China became the first major economy in the world to create its own digital currency.
Baqir expressed his views on the notion by stating that they are carefully studying the aspect of central bank-issued digital currency. "We are at a stage Julia where we are studying it. We hope to be able to make some announcement on that in the coming months," he further added. 
The Governor did not share any specific details about the SBP's own digital currency, but he stated that Pakistan is open to digital innovation. While replying to a question on Fintechs, the Governor said that well-known payment processing software companies such as Stripe, Paypal, and Adyen are very much welcome in Pakistan. 
Read more: Khyber Pakhtunkhwa plans to build two hydro-powered cryptocurrency 'Mining Farms' 
He further explained the notion when SBP eliminated the IBFT fee in response to the Covid-19 pandemic, its impact was remarkable. The quarter that was completed in December, had witnessed a growth of about 150% to 200% compared to a year ago on mobile banking transactions. For internet banking transactions that number is around a 100% to 150% growth.
In addition to it, recently China has developed its own digital currency, a cyber yuan, which is managed by its central bank that will issue this virtual money. The fiat currency further has a digital version in the form of credit cards, payment apps, etc, but in this case, China is transforming its legal tender into a computer code. 
Furthermore, in the year 2019, the State Bank of Pakistan had originally panned out a long-term plan for introducing its own digital currency by the year 2025, with completely digitized and technologically equipped administrative measures which, when achieved, would further redefine the purpose of central banking. It seems now the government is ready to act on the previously planned tactics. 
Read more: According to Rafay Baloch cryptocurrency "Pi Coin" is a scam