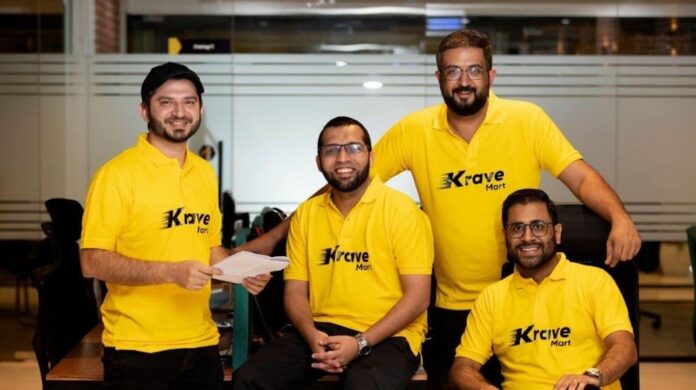 A Karachi-based grocery delivery startup, Krave Mart, has announced $6 million in pre-seed funding, the largest in the country's early-stage funding to compete for a share in a market that has well-funded startups such as Pandamart and Airlift.  
The raised pre-seed funding round was directed by MSA Capital, ru-Net, Global Founders Capital, and Zayn Capital informed Chief Executive Officer and co-founder of Krave Mart, Kassim Shroff. Saison Capital, 2 AM, Mehta Ventures, Jedar Capital, and Lakson Investments were other investors that participated in the round, added the report.
Krave Mart Plans to Use the Raised Pre-Seed Funding to Expand its Operations
Karachi-based grocery delivery startup, Krave Mart intends to utilize the latest raised pre-seed funding for its expansion in Pakistan. The CEO of Krave Mart shared his startup's goals to enter 10 more Pakistani cities by the end of the first quarter of next year. The grocery delivery startup further intends to expand its operation in Sri Lanka, Nepal, and Bangladesh.
Read more: E-Commerce Startup Brandverse Raises Multi-Million Dollar Investment in a Seed Round
"We are where India was 10 years ago. It will take us just 2-3 years to catch up because the ecosystem really favors us," Shroff was quoted as stating, highlighting Pakistan's young tech-savvy population. "We felt there is huge space."
Moreover, nowadays quick commerce "is a hyper-fragmented and inefficient experience" in Pakistan, added Tim Chen, the general partner at MSA Capital. "We've benchmarked and invested in similar models globally and believe Pakistan is a market ripe for disruption."
Pakistani Startups Have Raised Multi-Million Dollars from Both Local and International Investors
The startups present in Pakistan have witnessed a renaissance of sorts in 2021, with numerous businesses acquiring multi-million dollars from both regional and international investors. Last week, Lahore-based fashion e-commerce platform Clicky managed to raise $2.4 million in pre-Series A round. Last month, a Karachi-based cashflow management services provider, Udhaar Book raised $6 million in early funding.
Source: Pro Pakistani