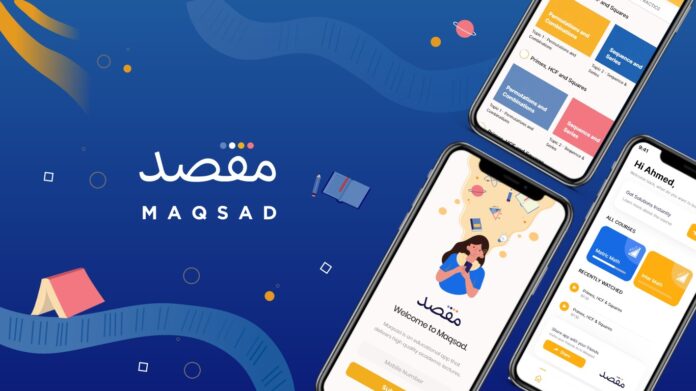 Mobile-only edtech startup, Maqsad has raised $2.1 million in the pre-seed funding round to enhance its content platform growth and invest in R&D. The pre-seed funding round was performed in just three weeks via virtual meetings and was directed by Indus Valley Capital. The investment raising round witnessed participation from Alter Global, Fatima Gobi Ventures, and several other angel investors from Pakistan, the Middle East, and Europe.
Maqsad Aims to Help Millions of Pakistani Students with the Newly Raised Pre-Seed Funding
Taha Ahmed and Rooshan Aziz, co-founders of Maqsad achieved something that everyone in Pakistan has been aspiring to do for the millions of marginalized children in Pakistan. Both founders left their rewarding jobs in London earlier in 2021 to establish the edtech startup, Maqsad, in Pakistan, with a goal "to make education more accessible to 100 million Pakistani students."
Maqsad will utilize the raised pre-seed funding for developing in-house content, such as production studio, academics, and animators, as well as reinforcing R&D and engineering, stated co-founder Rooshan Aziz. The edtech startup will focus on the K-12 education in Pakistan, including 11th and 12th-grade math, with ideas to expand into other STEM subjects for the next one-two years, he continued. aid.
Read more: Pakistan's Digital Freight Marketplace 'BridgeLinx' Raises $10 Million Seed Funding
Education Market to Increase to $30 Billion by 2030
Furthermore, the education market size in Pakistan is valued at $12 billion and is predicted to increase to $30 billion by 2030. Maqsad proposes to build the business as a hybrid center offering online and offline courses like Byju's and Aakash, and open classes for adults such as MasterClass, the U.S.-based online classes for adults, as its long-term plans with the raised pre-seed funding.
"It's about more than just getting students to pass their exams. We want to start a revolution in the way Pakistani students learn, moving beyond rote memorization to a place of real comprehension," said co-founder Taha Ahmed, who was a former strategy consultant at LEK.
Edtech Startup 'Maqsad' Soon to Launch its Mobile App 
The company ran small pilots in April and May and started full-scale operations on 26 July, Aziz said, adding that Maqsad will launch its mobile app, currently under development, in the coming months in Q4 2021 and has a waitlist for early access.
"Maqsad founders' deep understanding of the problem, unique approach to solving it, and passion for impact persuaded us quickly," the founder and managing partner of Indus Valley Capital, Aatif Awan, said.
Source: TechCrunch