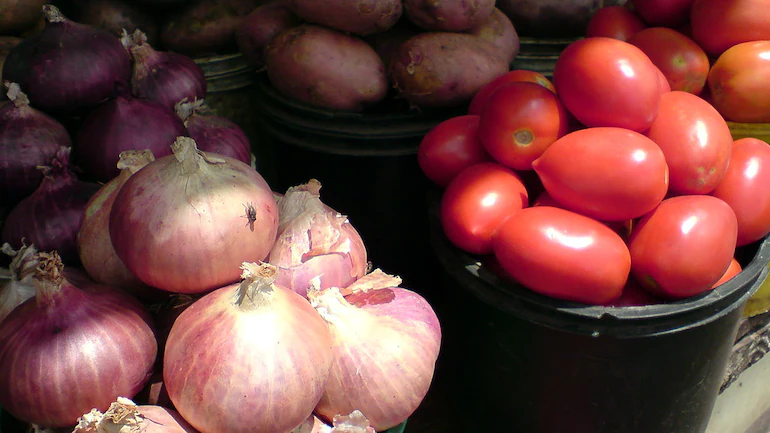 The government of Pakistan has decided to issue import permits to the importers of onions and tomatoes in order to ensure a smooth supply of basic necessities. In this regard, the food ministry will issue the permit in the next few hours, the ministry has also asked FBR to waive taxes and levies on onions and tomato imports for the next three months on an immediate basis.
Onions and Tomatoes to be Imported from Iran and Afghanistan
A meeting between the Ministry of National Food Security and Research noted that the import of onions and tomatoes from Iran and Afghanistan would have minimal impact on the foreign exchange reserves owing to the special trade arrangements with these countries. The decision came as the prices of onions and tomatoes shot to Rs 300 per kg due to a flood-induced supply shortage.
The Ministry of National Food Security and Research said that the measures are taken to ensure a smooth supply of essential commodities in the market and stabilize prices. Earlier, Finance Minister Miftah Ismail said that the government is trying to quickly implement policies to stabilize food prices, which also includes importing items from India. It is pertinent to mention here that Pakistan halted its trade relations with India in August 2019 after India decided to revoke Article 370 which granted a special status to Jammu and Kashmir.
Read more: Government is Considering Vegetable Imports from India Due to Recent Floods
Contact Group to Facilitate Importers
In order to facilitate importers, a contact group has been created where the importers can discuss their problems and a team from the Ministry of National Food Security and Research (MNFS&R) will monitor the situation and will take necessary action for redressal. The ministry has collaborated with all the stakeholders and has taken all the necessary steps in order to ensure food security in the country in times when crops have been heavily damaged due to recent floods and rains.