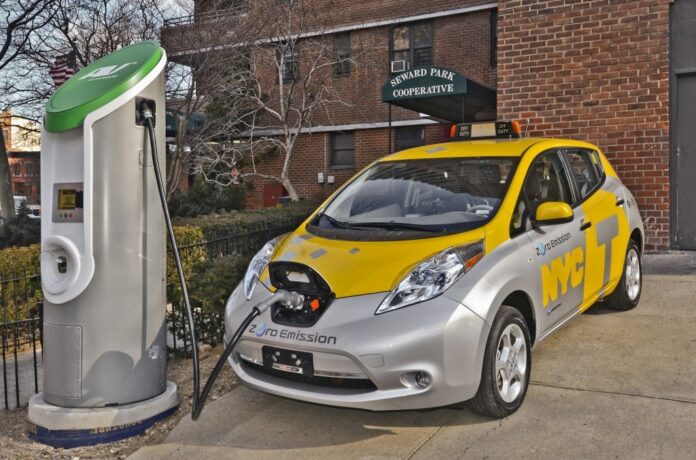 On Monday, Special Assistant to Prime Minister (SAPM) on Climate Change, Malik Amin Aslam launched Pakistan's first electric taxi in Islamabad, as part of Prime Minister Imran Khan's vision for Clean Green Pakistan.
Furthermore, the SAPM stated that the first electric taxi service is a very significant move for the drastic repercussions Gilgit Baltistan is facing because of the temperature rise, resulting in snow slides and frozen lake eruption floods, continuing that the "transformation of automobiles entering the picturesque tourist areas of GB would bring a revolution in the area through eco-friendly transportation".
Special Assistant to Prime Minister on Climate Change Malik Amin Aslam on Monday inaugurated the environment friendly E-Taxi for northern areas of the country as per the Prime Minister's vision of embracing 21st century technological advancement amid ecological conservation. pic.twitter.com/YfylRFDp6v

— Ministry of Climate Change, Govt of Pakistan (@ClimateChangePK) August 17, 2021
The First Electric Taxi Service is Joint Venture to Protect Natural Environment 
The launch of the first electric taxi service is a shared venture between Sapphire Group and Faisal movers, and it intends to decrease Pakistan's carbon footprint and help protect the natural surroundings of northern areas, particularly Gilgit-Baltistan (GB).
Read more: Govt of Sindh allocates Rs6.5 billion to acquire electric buses for Karachi
Speaking at the inauguration ceremony, Malik Amin said, "I congratulate Sapphire Group and Faisal Movers for their joint initiative as they are embracing the future in the field of advanced mobility and sustainable growth."
From Electric Taxi Service Oil Import Expenses Can be Reduced 
In addition to this, Amin Aslam also declared that there would be PKR12,000 budget savings for the e-taxi driver in the northern areas of Pakistan, continuing that there would be a saving of Rs 2 billion in terms of oil import expenses. According to an engineer associated with the private firm that produced the electric taxi, the electric cars would travel a distance of 250km with full battery charge.
It was also announced during the ceremony of the first e-taxi that two electric vehicle charging stations will also be established in Islamabad and Murree after that the e-taxi service would be launched.
Charging Infrastructure is a Major Issue of Electric Taxis
GB Chief Minister Khalid Khursheed Khan while sharing the details stated, the electric taxi would start from the federal capital to Murree and Nathiagali whereas its powerful engine and battery capacity could also let the vehicle venture into mountainous areas. "Charging infrastructure is a major issue after launching the EVs whereas the government of Pakistan is extending incentives on charging stations to be installed across the country," he told the participants. 
Source: TechJuice